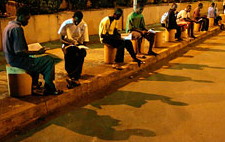 When the sun has set in Guinea, one of the world's poorest nations, and the floodlights come on at Gbessia International Airport, the parking lot begins to fill with children. It is among the only places where they can count on finding the lights on. The long stretch of pavement has the feel of a hushed library, according to ap-writer Rukmini Callimachi in an fascinating article in USA Today:
Groups of elementary and high school students begin heading to the airport at dusk, hoping to reserve a coveted spot under the oval light cast by one of a dozen lampposts in the parking lot. Some come from over an hour's walk away.
"I used to study by candlelight at home but that hurt my eyes. So I prefer to come here. We're used to it," says 18-year-old Mohamed Sharif, who sat under the fluorescent beam memorizing notes on the terrain of Mongolia for the geography portion of his college entrance test.
Eighteen-year-old Ousman Conde admits that sitting on the concrete piling is not comfortable, but says passing his upcoming exam could open doors. "It hurts," he says, looking up from his notes on Karl Marx for the politics portion of the test. "But we prefer this hurt to the hurt of not doing well in our exams."
Only about a fifth of Guinea's 10 million people have access to electricity and even those that do experience frequent power cuts. With few families able to afford generators, students long ago discovered the airport.
The lack of electricity is "a geological scandal," says Michael McGovern, a political anthropologist at Yale University, quoting a phrase first used by a colonial administrator to describe Guinea's untapped natural wealth. Guinea has rivers which if properly harnessed could electrify the region, McGovern says. It has gold, diamonds, iron and half the world's reserves of bauxite, the raw material used to make aluminum.
>> read the whole story in USA Today
"Although Guinea's mineral wealth makes it potentially one of Africa's richest countries, its people are among the poorest in West Africa" >> more information on Guinea in the BBC country guide
Michael (Mike) McGovern is / was the West Africa project director for the International Crisis Group. He has appeared quite often in the media on Guinea related issue as a google search reveals