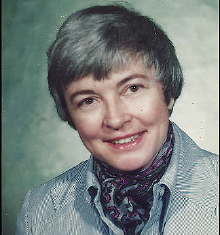 Anthropologist Reining died July 19 at the age of 84. "Anthropologist Broke Ground on AIDS, Satellite Mapping", writes the Washington Post in an orbituary.
Last winter I wrote about anthropological studies that showed that male circumcision reduces the risk of HIV infection. But Reining had researched this topic already 18 years ago:
In a 1989 study published in Current Science with three co-authors, Reining spelled out the unmistakable correlation: Uncircumcised African men were 86 percent more likely to get the AIDS virus than those who had been circumcised. Her findings held true across different regions, ethnic groups and religious faiths in Africa.

At first, her study was ignored or dismissed. Some African peoples had taboos against circumcision, and many scientists couldn't believe that such a simple procedure could produce such startling results.

(…)

Yet study after study – there have now been more than 60 – supported Reining's initial findings. She was interviewed for a BBC documentary in 2000, and one-time skeptics were convinced by years of mounting evidence that she had been right all along.
>> read the whole article in the Washington Post
SEE ALSO:
Male circumcision prevents AIDS?
"There's no AIDS here because men and women are equal"
AIDS:"Traditional healers are an untapped resource of great potential"
Cultural values and the spreading of AIDS in Africa
AIDS and Anthropology - Papers by the AIDS and Anthropology Working Group