Dissertation: Survival in the Rainforest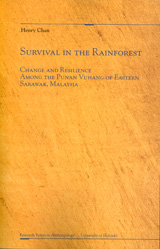 Are hunter-gatherer communities able to rely completely on the rainforest environment for their food, without any dependence on food traded from farming societies? How has their life changed as a result of settling down? How has the community responded to the drastic changes that have come with logging?
Anthropologist Henry Chan (University of Helsinki) answers these questions in his dissertation "Survival in the Rainforest. Change and Resilience among the Punan Vuhang of Eastern Sarawak, Malaysia" that has been published a few days ago.

For nearly all of their known history, the Punan Vuhang have lived as hunter-gatherers, writes the anthropologist. In 1968, however, they adopted cultivation. His research among the Punan Vuhang began in 1993 and continued through 1995, with a more brief follow-up period in November 2002. Chan is the first Sarawakian awarded the Asian Public Intellectual (API) Fellowship of the Nippon Foundation.
Based on memories of informants, and, where relevant, from participation-observation of present-day hunting-gathering activities, Chan has reconstructed their past economy, history and social organization.
He supports the argument that hunters-gatherers could survive without relying on farming societies for food. For several decades anthropologists and human ecologists have been divided in "The Hunter-Gatherer Dependency Debate":
Ethnographic studies from the early 1960s of hunter-gatherers emphasized the economic and social advantages of hunting and gathering. This was a complete reversal of an earlier notion that hunter-gatherers are marginalized people on the perpetual verge of starvation, constantly pursuing food, and failing to develop forms of social organization associated with supposedly more advantageous means of production. (...) Lee and Marshall (1961) were the main proponents of a model that maintained that the environment sufficiently provides for the needs of hunter-gatherers.

(...)

Subsequent studies later challenged this model, leading to a series of debates that persisted into the 1990s. These debates pitted against each other two schools of thought commonly known as the "traditionalists" or "isolationists," and the "revisionists" or "integrationists." In contrast to traditionalists' view of the ease in obtaining food, the revisionists documented the difficulty of some hunter-gatherer societies in obtaining carbohydrates. Further, the revisionists maintained that the perception of hunter-gatherers as isolated is erroneous and is an external view imposed on them by anthropologists. (...)

Most revisionists accept the world systems political model, first formulated by Immanuel Wallerstein (1974, 1979), as applicable to the analysis of past and present hunter-gatherers. They argue that the devotion of ethnographic attention to hunting and gathering is itself spurious, and that researchers should instead study how people relate to the forces of capitalism and colonialism.
His data, Chan writes, show that the rainforest is capable of sustaining a hunter-gatherer population:
The case of the Punan Vuhang lends some support to Sahlins' "original affluence" theory that suggests hunting and gathering people are able to easily satisfy their needs and wants because they have few needs. In fact, of the things they need the most, food, the Punan Vuhang show little concern if no one succeeds in obtaining food for any particular day. They know that someone will get something the next day and share it with everyone else. So long as every hunter explores a field further away and is diligent, there are lots of little things to be found.
In addition to mastering the means by which a wide range of food could be obtained, coping with food scarcity also involved gaining an in-depth knowledge of the environment and its resources according to Chan:
Hunter-gatherers systematically combed the forest and kept in their memory the locations of sago groves, fruit trees and places that attract animals such as salt-licks and wallowing ponds. Armed with this knowledge, hunters brought their specially-bred dogs to hunt wild boars or used blowpipes to shoot tree-dwelling animals and birds. (...) Should an individual hunter fail to obtain game, he did not have to worry about going hungry, for the Punan Vuhang organized themselves so that successful hunters and gatherers shared their food with others.
But this prior situation of food sufficiency, from the past through 2001, was shattered as the Punan Vuhang entered the 21st Century:
In 2001, logging intruded into the remote rainforest and since then has drastically impacted the Punan Vuhang, both physically and socially, as it has left an altered, empty landscape littered with fallen branches and muddy soil. The Punan Vuhang feel frustrated and angered with this wanton destruction of their forest. They spend much time hunting in distant forests, but often return empty handed. Instead of sharing, successful hunters sell meat to loggers whose demand is insatiable.

Many Punan Vuhang men frantically search for scarce aloewood to sell before it is destroyed by logging. Consequently, they neglect their farms and they have to buy rice and sago starch from the logging camp's grocery shop. Hence, with deforestation, it seems that they have now become truly dependent on outsiders for food. (...) Unable to bear such helplessness, many Punan Vuhang have resorted to alcohol and frequently become drunk.
UPDATE: See the comment by Eric Davis related to the Khmer: Hunting and Gathering Discussions
SEE ALSO:
"But We Are Still Native People" - Tad McIlwraith's dissertation is online
Challenges popular notions on indigenous peoples: Alex Golubs dissertation on mining and indigenous people
How to survive in a desert? On Aboriginals' knowledge of the groundwater system
This entry was posted by
admin
and filed under
indigenous people / minorities
,
Asia
,
ecology nature
,
persons and theories
,
journal articles / papers
.
1 comment
This is not a good sign for the poor Indians in the Ecuadorian Rainforest. Their government has literally sold them "down the river"! What a dangerous precedent for climate stewardship.