Popular Anthropology Magazine = fail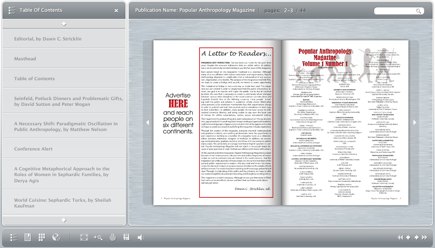 The first issue of the Popular Anthropology Magazine is out. It was meant to bridge the gap between academia and the public and between anthropologists and continents. Cool, we needed that. But the result is - in my opinion - disappointing. For it was made with outdated paper journals as ideal. The editors were thinking paper, not web. They do provide a downloadable version on their website but the flash animated paper-look-like version is a pain to navigate and read (the automatic scrolling is very irritating).
I finally tried to download the whole journal. It took ages and Firefox was about to crash. When the file finally was saved, it turned out to be 151 MB heavy. The pdf consisted of image files! Which means it is partly hard to read and you cannot copy and paste its content, and the links are not clickable. Fail! Can't anthropologists do better? The articles deserve better. The table of contents looks promising, especially the sections on social science around the world.
SEE ALSO:
Anthronow - new magazine will make anthropology accessible to lay readers
New e-zine: American Ethnography
Imponderabilia - new international anthropology student journal