It's been more than two weeks now, since I've moved house. This move has made me realise that I in fact lived in a village before, and now I seem to have moved downtown. In downtown Charonne, I'm not recognised by the baker the second time I enter his shop, and the same faces don't surround me on the street every day. In our little neighbourhood in Ménilmontant I saw familiar faces all the time, and even a shy person like me got to know the local merchants in not much time. As I think about how quickly I got a sense of the village-like place I moved from, I realise that I'm not able to give a good description of my new quarter yet, despite having lived here for a while.
Part of the impersonal atmosphere of Charonne – a quartier populair a little northeast of Place de la Bastille – comes down to it being wintertime. There are no longer chairs and tables outside the cafés and bistros, and people don't hang around outside but hurry home and inside on their way from the metro or bus. And crossing a local square, I only come across some youths asking for cigarette papers or the odd loner, doing nothing on a bench. The parents and children, staying for hours after school time in the warm days of autumn are long gone. December is a hard month discovering an area…
My impression so far is that the middleclass bohemian bourgeoisie ('bobo') creeping down, or up, the hill in Ménilmontant, have not reached here yet. There is a small gallery of modern, figurative paintings and a little shop of ceramics in my street – in addition to an appealing little shop for making your own hanging garden – but I suppose a gallery or two doesn't qualify a Parisian area as gentrified. The working classes seem for the most part still left by themselves. (There is however a couple of all right restaurants around including a sushi place, but still I'd claim that it doesn't count as gentrification). My impression is strengthened when considering the food on offer in the local supermarkets; my amateur guess is that the number of ecological products at sale might be an indicator of the social class of the area. The only ecological groceries you can get here, are staple foods and other long lasting products (usually quite dusty). There are no ecologically grown bananas or other fruits or vegetables… I haven't checked for organic meat, I'll have a look next time. (When talking about supermarkets; one thing I like about French supermarkets is the loooong time many people spend in front of the cheese counter). Similarly, only one supermarket around here sells expensive and small (thus easily stealable?) beauty products like facial creams and razor stuff. In that particular store they are also more persistent in asking their customers to leave their bags in custody when entering the shop. Is there a connection? I'm only guessing.
I learnt by coincidence – on a screening of a film from a local elementary school on the 100 years anniversary for the law on laïcité (the separation of church and state) – that the local schools are in fact classified as educational priority. Being a ZEP – zone éducation prioritaire – means there exist a number of socio-economical disadvantages here. (I'll for sure return to the question of ZEP, as it has played an important role in the debates both before and after the November riots/revolts. ZEP is the French version of affirmative action; habitants of particular areas, instead of particular (ethnic) categories, are considered as disadvantaged and thus entitled to special attention).
When thinking about it, I think perhaps my description has been a bit one-sided. If I've given the impression that the area is in any way shabby, I should correct myself. I find the area ordinary and a bit impersonal, but far from shabby. The streets are incessantly being washed by small, green cars here, as in the rest of the city. The squares, the flowerbeds and the trees lining the boulevard are being well kept. And the buildings, greyish by pollution, are well maintained.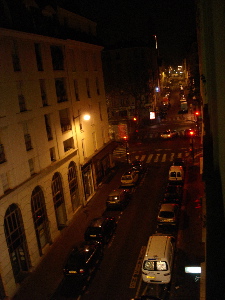 Apart from a couscous take-away, a yet uncounted number of tiny bars where (mostly) men seem to hang around the counter at every hour of the day, a surprisingly tidy food-market twice a week, an abundance of pharmacies (at least as many as there are newsagents but fewer than there are bakeries and patisseries), my local area also comprises an anarchist bookshop (Quilombo). Perhaps my very favourite thing of Paris life is walking down a street, an anonymous just normally picturesque Parisian street, and then you stumble upon an amazing graffiti, or a café so charming that you just have to enter – or an anarchist bookshop, just around the corner on your way to the supermarket.