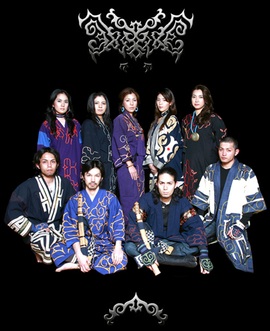 Better times for the Ainu in Japan? There is an "revival of ethnic pride" going on in Japan according to ap.
At the forefront are the Ainu Rebels (image). They use music and dance to rebel against a history of institutionalized discrimination. They celebrate being an Ainu by mixing traditional dress, dance and language with hip-hop and rap.
And they're getting an enthusiastic response from young Japanese. T-shirts, vests and handbags adorned with Ainu motifs are selling well, and Ainu rock musician Oki Kano is making it big with a band featuring the tonkori, a sort of Ainu guitar, ap journalist Malcolm Foster writes. Ethnicity is hip in Japan according to linguist John Maher.
When I visited the indigenous music festival Riddu Riddu in Northern Norway a few years ago, I noticed the strong ties between the Saami and other indigenous people around the world. Riddu Riddu started as a Saami festival but developped into an international festival with guests from Papua New Guinea, Botswana, New Zealand, Nunavut and Greenland.
Contact with other indigenous people was also critical to the Ainu revival. Mina Sakai from the Ainu Rebels tells that her awareness came at age 16 when, on a cultural exchange trip to Canada, she was struck by the passionate way Canadian indigenous people danced and sang:
"I was shocked. They were so cool and so proud of being native Canadians. I realized that I have a beautiful culture and strong roots. I decided that I should be a proud Ainu and express that in my life."
In June, Japan's parliament recognized the Ainu as an indigenous people - a major shift from the mid-1980s when Yasuhiro Nakasone, the then prime minister, declared that Japan was a homogenous nation with no minorities.
>> read the whole story in the Guardian
The article also mentions Ann-Elise Lewallen, an American cultural anthropologist at Hokkaido University who has worked closely with the Ainu community for 10 years. But I could not find info about her online.
UPDATE: See also the coverage of this issue at Open Anthropology: Decolonizing Japan?
SEE ALSO:
Inuit language thrives in Greenland
"Pop culture is a powerful tool to promote national integration"
The cultural nationalism of citizenship in Japan and other places
How Media and Digital Technology Empower Indigenous Survival
"But We Are Still Native People" - Tad McIlwraith's dissertation is online
Indigenous people no victims of globalisation: Alex Golubs dissertation on mining and indigenous people
Open Access to Indigenous Research in Norway
How filmmaking is reviving shamanism
Thomas Hylland Eriksen on Cosmoculture: Preferably more art than books!