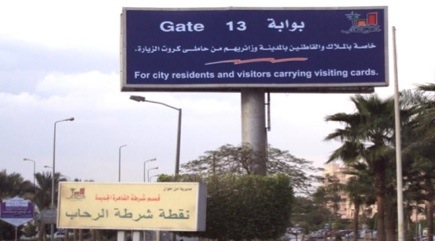 Gated communities: Access denied for outsiders. Photo: Safaa Marafi
While Cairo's slum areas are growing, the richest layer of the society is enjoying a luxury life in privately guarded communities in safe distance from the lower classes. Hosni Mubarak's neoliberal dream of segregation seems to have come true. But during the Egyptian revolution some of the young people have started to tear down the walls of their gated communities.
Safaa Marafi from the American University in Cairo (AUC) tells us in her well-written anthropology thesis the story of the giant segregation projects of the Mubarak regime. She has conducted fieldwork in Al-Rehab, one of those gated communities constructed on desert land, where the middle- and upperclass isolate themselves, shop in luxury malls, use private door-to-door limousine services and send their children to private schools or universities.
It's a thesis about how neoliberal policies threaten the cohesion of a society.
The development of gated communities was part of Egypts neoliberal policies under Mubarak. In the late 1990s, Egypt underwent a process of structural adjustment guided by international financial organizations (Worldbank, IMF etc), which led to further privatization and liberalization of the economy. The most visible outcome has been land speculation, Marafi expains:
This segregation began when the Egyptian Ministry of Housing sold massive amounts of desert land, situated at the margins of Cairo, to private corporations. Approximately 320 private corporations purchased portions of this land and planned projects for a potential 600 thousand housing units (Denis 2006:52). This expansion process resulted in the construction of numerous gated communities in the suburbs of greater Cairo.
The Neoliberal Dream of Segregation
The Mubarak-government and its "clique of businessmen" were driven by a "neoliberal dream of segregation" - a term coined by sociologist Mona Abaza:
The neoliberal dream of segregation can be defined as a political-economic agenda adopted by the Egyptian government, which fostered and supported rich local and foreign investors in building gated communities in Cairo's suburbs. By constructing these enclaves for the richest layer of Egyptian society, these development projects created a physical segregation in Cairo's urban fabric. This segregation is evidenced by the way the residents of these hinterlands are protected by private security systems, walls and/or fences, gates, and private security guards.
"Neoliberal policies", Marafi writes, "have encouraged class-based urban segregation, leading to polarization in the urban fabric." The adoption of neoliberal polices turned the state into a private territory, where wealth is monopolized by political elites and businessmen.
Moral panic towards the lower classes
This segregation is not only related to space but also related to the mind.
Living in this gated communities intensifies the mood of moral panic felt towards the other - people from lower classes. "This is", the anthropologist explains, "because they believe that their community is labeled as a rich one and therefore may be a target of potential criminals. State and media contributed to the fear of the other. Not only the marketing campaigns of gated communities seek to convince potential buyers that outside of the gates, fences, and walls of these closed venues lies a dangerous world. The consequence is a "culture of fear".
Many residents, especially in recent times, moved to Rehab for class and safety reasons. They wanted to isolate themselves from the other. But soon they had to realise that they cannot live without "the uncivilized others". They are dependent on them. For who shall clean their houses, deliver food, and patrol the streets to protect them? The supposed enemy and security threat is living among them!
Culture of fear
The residents feel a need to apply extra security measures. Despite these measures taken by the participants, the private security department of Al-Rehab, and the public police, the participants' fears are not alleviated, Marafi writes.
Security cameras, intrusion alarms, extra secure locks, as well as guard-dogs, can all be observed in the community. In addition, there are some shops which sell extra-large security lamps to be attached onto the roofs of villas.

In many villas, the use of such lamps as security tools makes the villas look more like military buildings at night, rather than family residences.

In addition, surveillance real and fake cameras are among other security methods implemented by other participants. Fake cameras are sold in at least one of the most popular electronics shops in the souk of Al-Rehab.
Some residents don't even trust the security guards. Nora is one of them. Private security, she points out, relies on guards, and as they are humans they might fall asleep while on the job. Moreover, Nora claims that there are some cases where private security guards collaborated with criminals.
The private security guards themselves are aware of the distrust felt by the residents. Security guard Hanafi tells about Sara:
Madam Sara drives every night and checks the kiosks of the security guards located around her villa. If she does not find a security guard in any of these kiosks, she takes a picture of the empty kiosk with her camera and sends the picture to the security department. The security department trusts her word over the security guards and punishes those guards who were not in their positions or patrol areas. Also, she reports to the security department if she finds any of the security guards falling asleep, and she also takes pictures of them as evidence.
Being protected creates a sense of superiority
The anthropologist has noticed that classist phrases are used frequently. Being protected by private security guards and systems creates a sense of superiority.
When for example Nora explains why she moved to Rehab, she stresses that she wanted her son to live in a "clean neighborhood" when he gets married. Mohandessin, where they lived previously, "became old-fashioned", populated by lower classes and "polluted". In Rehab, on the contrary, reside "clean people", their neighbors are "respectful" and "civilized people".
Marafi comments:
The prejudicial connotations of these elitist, classist notions of newness, civilization, cleanness and decency indicate a desire for urban segregation and a keeping of distance from "the other": the dirty, polluted, and uncivilized.
Security measures are also used to show wealth and status ("conspicouos consumption"). Some of the residents design security bars using branded logos, such as Versace. Others paint their security bars in different colors, such as white, to differentiate themselves from others ("aesthetic security").
It is obvious to see primarily the poor as victim of neoliberal policies. Safaa Marafi suggests a different view:
While slums are stigmatized by poverty, gated communities are labeled by their richness. It is not that one group should be victimized over the other, but they both ought to be understood as victims of the implementation of the neoliberal segregation policy.
Breaking the walls
But her thesis has a somehow "happy ending" (depending on your world view of course), caused by the 25th January Revolution.
While the political participation of the residents previously has been rather low and there was a "noticeable sense of detachment" from any involvement with earlier protest movements, things have been slowling changing:
In the beginning of this unexpected revolution, none of my participants showed interest in joining the peaceful protests. (…) Yet, as I learned, a few of Al-Rehab's youth are active agents in this revolution. The neoliberal segregation plays a role in detaching many, but not all, of the residents of Al-Rehab. The youth especially were the ones participating in the political sphere. (…) Optimistically, this tells us that some of the youth of Al-Rehab want to be part of the world outside their gated community.
Safaa Marafi sent me a video from the youth celebration in Rehab after the announcement of the resignation of President Hosni Mubarak on 11th February 2011. "The quality is is not that good", she admits, "but its content is very important as it shows how the youth of the gated community are breaking the walls of their gated community and want to be part of the outside world".
Her thesis can be downloaded here on antropologi.info:
Safaa Marafi: The Neoliberal Dream of Segregation. Rethinking Gated Communities in Greater Cairo. A Case Study. Al-Rehab City Gated Community (pdf, 2.7MB)
An earlier version is available at the digital archive of the AUC (DAR)
SEE ALSO:
Ethnographic Research: Gated Communities Don't Lead to Security
"The insecure American needs help by anthropologists"
Why borders don't help - An engaged anthropology of the US-Mexican border
Criticizes "scholarly and political indifference toward the workers' lives"
– Use Anthropology to Build A Human Economy
Saba Mahmood: Democracy is not enough - Anthropologists on the Arab revolution part II