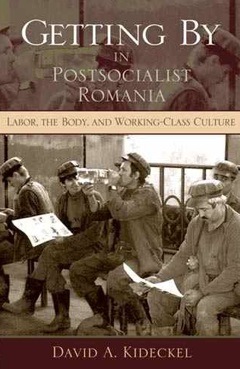 Mass media and intellectuals have typically portrayed them as aggressive, uneducated, and morally spoiled. In his recent book, anthropologist David A. Kideckel challenges these views and lets the Romanian working class speak for themselves.
"Most east and southeast European scholars tend to avoid labor and workers in postsocialist science, a topic that Kideckel embraces", writes Simona C. Wersching in her review in the Monthly Review.
Kideckel points out the scholarly and political indifference toward the workers' lives, their physical states, and embodied perceptions. Workers are only visible when they appear threatening and protest.
In Getting By in Postsocialist Romania. Labor, the Body, and Working-Class Culture, he provides according to Wersching "refreshing perspectives" about life coping strategies of two distinct working-class groups in Romania, the miners of the Jiu Valley and the industrial workers of the Nitramonia factory in Făgăraş/Transylvania:
Kideckel's contribution pays particular attention to workers' words and thoughts about themselves, their work, their families, their societies, their fears, and their dreams, and highlights the diverse legal and illegal practices of "getting by" (a se descurca) in this changing world after 1989.
Health, living standards, and consumption possibilities have deteriorated. Postsocialist pressures on labor and bodies produce "frustrated agency". These problems have according the anthropologist nothing to do with 'socialist legacies' or 'culture', but should be understood as responses to "neo-capitalism", "a system that reinterprets the main principles of capitalism in a new way and that promotes social injustice much more than does the Western model from which it derives":
Kideckel interprets the workers' words as typical preoccupations of workers confronted with the "effects of the forced diet of neo-liberalism" (p. 8), such as changing and uncertain status of property due to privatization, inequalities, instrumentalization, commodification of basic social relations by the market democracy, weak state structures that allow the existence of mafia and corruption, the misusage of funds and foreign assistance, the decline in agricultural markets, the return to subsistence farming, and emigration. Kideckel connects the effects of neoliberalism to his critics' notion of "transition" as an academic representation of triumphalist politics.
Kideckel, who conducted his first fieldwork in Romania in 1974, also claims that the workers' "selective perception of the past" (when workers had high status) and their present feeling of alienation from society at large, create a feeling of frustration that hinders effective agency.
SEE ALSO:
Durham Anthropology Journal: How "post-socialist" is Eastern Europe?
Doing fieldwork in Eastern Europe - New issue of Anthropology Matters
– Use Anthropology to Build A Human Economy
Ethnographic study: Why the education system fails white working-class children
Available for download: Alex Golubs dissertation on mining and indigenous people
Fieldwork as cab-driver: "An amazing other world"
Financial crisis: Anthropologists lead mass demonstration against G20 summit