How can we create a more plural anthropological community?
Interesting article in Anthropology News October by Brasilian antropologist Gustavo Lins Ribeiro on the lacking globalisation of anthropology: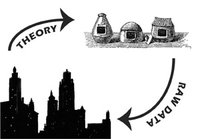 Globalisation in anthropology has mirrored unequal relations existing within larger structural processes. Theory, for instance, has flown from metropolitan centers to non-metropolitan centers while the flow of "raw data" makes the opposite movement.
The consequence is that a large part of anthropological knowledge remains unnoticed:
English has become the global language to the detriment of a more diversified linguistic and stylistic scenario. Think, for instance, of the size of anthropology in Japan or Brazil. But few read Japanese or Portuguese outside of their original language communities. Furthermore, only a small internationalized elite interacts on a global level. Nation-states remain the primary place where the reproduction of the profession is defined in particular ways.
So what can be done? How can foster the visibility of non-metropolitan works of quality and enhance our modes of exchanging information? How can we create and consolidate a more plural anthropological community?
He suggests among others:
- Translation of different anthropological materials into English. But to to avoid linguistic monotony, German anthropologists should be translated into Japanese, Mexicans into German, Australians into Portuguese, Brazilians into Russian, and so on.

- Online communication: An electronic collection of classics from different countries and a global anthropology e-journal are real possibilities.

- Increased presence of international participants at national anthropology congresses and creating connections and fostering exchange is to capitalize on already existing national and international anthropological associations. The creation in 2004 of the World Council of Anthropological Associations was an important step in this direction.
UPDATE (10.2.07)
World Anthropologies - Book and papers online: Working towards a global community of anthropologists
SEE ALSO
On Ribeiros new book "World Anthropologies. Disciplinary Transformations within Systems of Power
Gustavo Lins Ribeiro: Global Navigations
Gustavo Lins Ribeiro: The Condition of Transnationality. Exploring Implications for Culture, Power and Language
Open Source Anthropology : Are anthropologists serious about sharing knowledge?