Thesis: How does EU influence the life of farmers in Finland?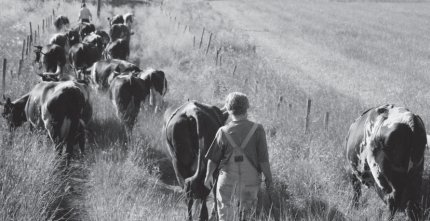 Why see uncertainty as a hindering aspect of human experience, instead of an enabling one? In her thesis Good Lives, Hidden Miseries: An Ethnography of Uncertainty in a Finnish Village, anthropologist Susanne Ådahl from the University of Helsinki argues that there can be something called "good suffering", a suffering which creates positive meaning and creative action:
There is a reason why people continue doing things, working, producing on the land, maintaining sociality and community although a lot of it goes against all economic logic. For farmers it is not only a matter of being engaged in practical action, but that the action has a quality of "meaningfulness" to it.
Her thesis is an ethnographic study, in the field of medical anthropology, of village life among farmers in south west Finland, based on 12 months of field work conducted 2002-2003 in a coastal village.
Ådahl asked people about their life histories, the meaning of the home, work, social solidarity and social interaction, notions of illness and well-being. She was primarily interested in finding out how people experience social change and what they do to deal with it. And by working with farmers she "came to understand the central symbols of farming life and the impetus that keeps these people going although outside forces are reducing their living space, both symbolically and literally".
When she started her fieldwork Finland had been a member of the European Union for seven years, and farmers felt the EU had substantially impacted on their working conditions, she writes:
Perhaps one of the greatest losses they are experiencing is that of their autonomy, the freedom to decide over life which seems to be equivalent to a loss of honour, and an honourable way of dealing with the dependence on structures beyond their control. It is also a potential loss of the home. There was complaint of other pressures in life such as work related stress, the fast pace of life and strained inter-personal relationships. Informants expressed worry over the ingestion of artificial foods and other harmful substances in the environment.

Felt uncertainty in their lives is brought about by increasing social isolation, feelings of depression, anxiety, guilt and distress. A concrete sign of the structural changes that are taking place in society is the emptying of villages.

(...)

The introduction of on-farm inspections and with it the issue of doubt and distrust that is inherent in this practice is perhaps one of the hardest blows to farmers' pride. They feel that a bureaucratic entity has penetrated into the sanctity of the home, transgressing boundaries of intimacy. Many also equate the present subsidy system with social welfare, living off a system, losing your independence. This has resulted in a loss of motivation to produce, because the reward for being a good farmer, one that strives to maximise his or her yields, is gone.

(...)

They feel that decision makers and representatives of the EU cannot understand, nor recognise the significance of local level knowledge, based in the reality of farming in Finland as well as the geographically specific areas of the country that "good farming practice" is based on.
In the midst of constraints and the demands to mould oneself to the social order there are also minimal forms of resistance, like writing "No EU" in bricks of contrasting colours on the roof of one's barn. Or being active in a producers' organisation, in municipal or party politics so as to influence the outcome of political decisions that impact on one's life:
One of the most obvious forms of resistance is related to the "cancer talk" that people engage in. It is used as a political commentary of the state of affairs, of people's fear of something foreign controlling their lives. It is a form of blaming society for making their living environment dangerous to dwell in and their food contaminated, and yet they keep on living in this environment.
So why can suffering be good and meaningful? The anthropologist explains:
For farmers it is natural to think that the importance of producing food makes their suffering meaningful, valuable and honourable. This positive, meaningful suffering produces wholesome food that feeds the nation and maintains our independence in terms of food security.
(...)
It is through working and being active in associations and other social activities that farmers can fulfil the central values of the farming life, those of continuity regardless of how economically unprofitable it has become to engage in farming especially for small holders. Farmers make the ambiguity of their lived realities understandable by referring to these core values that spring from the local context.
(...)
I believe that the central role of agency in the lived experience of human subjects emerges precisely because it is set against the backdrop of suffering, of the idea that those things which are at stake in one's life are threatened.
Her reserach was part of the research project Ethnographies of Illness Experience in Contemporary Finnish Contexts that has published three medical anthropology papers online.
The picture was taken from her thesis.
SEE ALSO:
Local Foods - New issue of Open Access journal "Anthropology of Food"
Crop Diversity Continues Thanks to Modern, Traditional Practices
Thailand: Local wisdom protects hometown from the onslaught of globalisation
This entry was posted by
lorenz
and is filed under
Europe
,
globalisation
,
ecology nature
,
medical anthropology / ethnobothany
,
journal articles / papers
,
food and drink
.