"Voices": Anthropologist publishes e-book about Palestinian women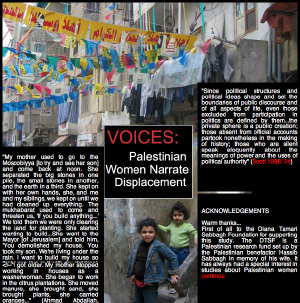 Voices: Palestinian Women Narrate Displacement is a collection of oral histories recorded by Beirut-based anthropologist and oral historian Rosemary Sayigh. It was published as e-book, devoted to men and women living in Gaza, the West Bank, Jerusalem and Israel. It allows readers to not only read the texts and see the pictures but also to hear the stories in the speakers' own voices, The Daily Star Lebanon reports.
"Because "Voices" seizes on the advantages of technology, the book transcends precisely those borders so troublesome to the Palestinian condition", Louisa Ajami writes in her review:
Sayigh became one of the few women to enter the Palestinian camps in Lebanon and she devoted her anthropological expertise to writing about the Palestinian diaspora. Much of her field work has centered on women and children, and she writes of the lives of rural peasant women and their more educated urban sisters with equal attention and flair.

Sayigh writes in the unobtrusive, objective style of an anthropologist, but she also interjects her personal impressions. She gives readers a sense of location, ambience and familiarity. (…) With her detached yet intense approach to recording their stories, Rosemary Sayigh renders her Palestinian subjects' struggles less abstract and more human.
But there is one drawback for those who don't speak Arabic:
Each narration is preceded by a short introduction in English. The opening lines of each interview are also transcribed in English, but the full interviews have been left in the original Arabic, as has the audio footage. For non-Arabic speakers, this leaves the bulk of the stories out of reach.
>> read the whole review in The Daily Star Lebanon
>> read the e-book "Voices: Palestinian Women Narrate Displacement"

More about / by Rosemary Sayigh
Interview with Rosemary Sayigh (The Jerusalem Times / palestine-family.net)
Rosemary Sayigh: No Work, No Space, No Future: Palestinian Refugees in Lebanon (Middle East International, 10 August 2001)
Rosemary Sayigh: Dis/Solving the "Refugee Problem" (Middle East Report 207 - Summer 1998)
SEE ALSO:
Anthropologists on the Israel-Lebanon conflict
The Future of Anthropology: "We ought to build our own mass media"
Open Source Anthropology : Are anthropologists serious about sharing knowledge?
2006 - The Year of Open Access Anthropology? 2005 was the year anthropology finally became visible on the internet. 2006 was the year of a more public, political and open access anthropology?
This entry was posted by
admin
and filed under
Open Access Anthropology and Knowledge Sharing
,
migration
,
anthropology (general)
,
Middle East
,
websites
.