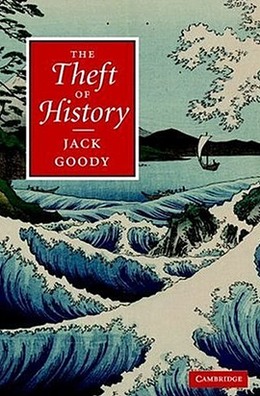 Are democracy, capitalism, freedom and the concept of romantic love unique inventions of the West? No. In his new book, anthropologist Jack Goody shows that the superiority of the West is largely unreal, even if we look to the recent past.
In "The Theft of History", Goody criticizes both Western historical writing and his own discipline anthropology, professor Alfredo Ascanio writes in a review at OhMyNews:
For example, it was always believed that democracy was born in Athens and in fact there appeared a particular form of democracy, but democracy existed first in Carthage, even in some cities in the Mediterranean, India, China and other "tribal" societies.

Karl Max and Max Weber were wrong in their thesis about capitalism, because capitalism – despite the industrial revolution – was far more widespread. It was first a product of sowing cotton and the exploitation of silk in India and China.

In another example, Goody explains how Elias and Braudel have overemphasized the European contribution in relation to modernity, when in fact this happened first in India and China. The concept of capitalism is rather a concept of the 19-century, says Goody, which should be used more carefully and has only been used for overvaluation of the differences between Europe and Asia.

And in Asia, the reality was always more advanced than the West in art and science, even in what was considered romantic love. It was not a Western invention but is a universal sentiment that already existed.
>> read the whole review at OhMyNews
In the introduction, Goody explains the title of the book:
The 'theft of history' of the title refers to the take-over of history by the west. That is, the past is conceptualized and presented according to what happened on the provincial scale of Europe, often western Europe, and then imposed upon the rest of the world.
The books is inspired by his research in Africa:
After several years' residence among African 'tribes' as well as in a simple kingdom in Ghana, I came to question a number of the claims Europeans make to have 'invented' forms of government (such as democracy), forms of kinship (such as the nuclear family), forms of exchange (such as the market), forms of justice, when embryonically at least these were widely present elsewhere.

These claims are embodied in history, both as an academic discipline and in folk discourse. Obviously there have been many great European achievements in recent times, and these have to be accounted for. But they often owed much to other urban cultures such as China.

(…)

The closer I looked at the other facets of the culture of Eurasia, and the more experience I gained of parts of India, China, and Japan, the more I felt that the sociology and history of the great states or 'civilizations' of Eurasia needed to be understood as variations one of another.
>> read the whole introduction (Cambridge University Press)
The book has also been reviewed by The Canadian Review of Sociology and Keith Hart.
SEE ALSO:
David Graeber: There never was a West! Democracy as Interstitial Cosmopolitanism
Amartya Sen: Democracy Isn't 'Western' this text was also debated on Savage Minds
For an Anthropology of Cosmopolitanism
Ethnocentric anthropology and Working towards a global community of anthropologists
Anthropologists condemn the use of terms of "stone age" and "primitive"