Yes to female circumcision?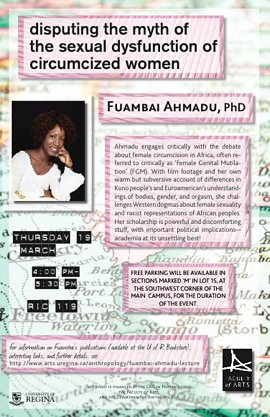 Is it a good idea to fight against female circumcision? Not neccesarily according to Sierra Leonean-American anthropologist Fuambai Ahmadu.

In an interview in Anthropology Today (available free as pdf here), she attacks Western feminists, media and anti-Female Genital Mutilation campaigns and accuses them for presenting a one-sided, ethnocentric picture of female circumcision.
A great deal of what is regarded as facts is not true, she explains. Many people think circumcision is a "barbaric tradition" and "violence against women". But Ahmadu does not see circumcision as mutilation. Circumcision is no notable negative effects on your health and does not inhibit female sexual desire either.

The problem with the representation of various forms of female circumcision as 'mutilation' is that the term, among other things, presupposes some irreversible and serious harm. This is not supported by current medical research on female circumcision.
But this research (Obermeyer, Morison etc) has not received any attention in Western media:
However, neither Obermeyer's reviews nor the Morison et al. study have been mentioned in any major Western press, despite their startling and counter-intuitive findings on female circumcision and health. This is in contrast to the highly publicized Lancet report by the WHO Study Group on FGM, released in June 2006, which received widespread, immediate and sensationalized press coverage highlighting claims about infant and maternal mortality during hospital birth.
Supporters of female circumcision justify the practice on much of the same grounds that they support male circumcision, she says:
The uncircumcised clitoris and penis are considered homologous aesthetically and hygienically: Just as the male foreskin covers the head of the penis, the female foreskin covers the clitoral glans. Both, they argue, lead to build-up of smegma and bacteria in the layers of skin between the hood and glans. This accumulation is thought of as odorous, susceptible to infection and a nuisance to keep clean on a daily basis. Further, circumcised women point to the risks of painful clitoral adhesions that occur in girls and women who do not cleanse properly, and to the requirement of excision as a treatment for these extreme cases. Supporters of female circumcision also point to the risk of clitoral hypertrophy or an enlarged clitoris that resembles a small penis.

For these reasons many circumcised women view the decision to circumcise their daughters as something as obvious as the decision to circumcise sons: why, one woman asked, would any reasonable mother want to burden her daughter with excess clitoral and labial tissue that is unhygienic, unsightly and interferes with sexual penetration, especially if the same mother would choose circumcision to ensure healthy and aesthetically appealing genitalia for her son?
It is important to remove the stigma around circumcision, Ahmadu stresses:
It is my opinion that we need to remove the stigma of mutilation and let all girls know they are beautiful and accepted, no matter what the appearance of their genitalia or their cultural background, lest the myth of sexual dysfunction in circumcised women become a true self-fulfilling prophecy, as Catania and others are increasingly witnessing in their care of circumcised African girls and women.
In an article in The Patriotic Vanguard, she describes the term Female Genital Mutilation as "offensive, divisive, demeaning, inflammatory and absolutely unnecessary":
As black Africans most of us would never permit anyone to call us by the term "nigger" or "kaffir" in reference to our second-class racial status or in attempts to redress racial inequalities, so initiated Sierra Leonean women (and all circumcised women for that matter) must reject the use of the term "mutilation" to define us and demean our bodies, even as some of us are or fight against the practice.
Anthropologist Carlos D. Londoño Sulkin comments Ahmadu's talk in Anthropology Today and criticizes his colleagues:
My own sense, after listening to Ahmadu, is that many Euroamericans' reactions to the removal of any genital flesh is shaped by parochial understandings and perfectly contestable biases and values concerning bodies, gender, sex and pain.
(…)
Many anthropologists, reacting against collectivist social theories and some of the less felicitous entailments of cultural relativism, have joined in the condemnation of female circumcision without first taking counsel from our discipline's methodological requirement actually to pay attention to what the people we write about say and do about this or that, over an extended period. Listening to Ahmadu, I can no longer condemn the practices of genital cutting in general, nor would I be willing to sign a zero-tolerance petition.
>> Disputing the myth of the sexual dysfunction of circumcised women. An interview with Fuambai S. Ahmadu by Richard A. Shweder (incl. comment by Carlos D. Londoño Sulkin)
SEE EARLIER POSTS ON THIS TOPIC:
Circumcision: "Harmful practice claim has been exaggerated" - AAA meeting part IV