The new antropologi.info Anthropology Newspaper and News Ticker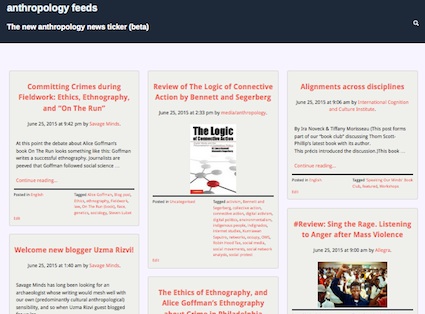 Would you like to get an overview over the most recent anthropology blog posts? The old newsticker did no longer work reliably, so I've created a new one. It is still work in progress, but so far it seems to work well. I tried to make it look more attractive, with a newspaper look, images and short excerpts with responsive design that also looks good on mobile devices. It also provides a tagcloud from all the categories that the blog authors assigned to their posts, a probably useful tool for exploring previous posts.
The feeds are updated every two hours. Have a look at the new Anthropology Newspaper here http://www.antropologi.info/feeds/
So far, 100 70 blogs are included, so far only English and German ones. I might add more languages later. Please let me know if there are other blogs that I should add or if things are not working as expected, either here in the comment field or via the contact page.
As mentioned, I'm still working on it, there is a lot more that can be done with the current set up. It was not easy to find a good solution. I was about to go for a commercial solution but then I was so happy to find the free and opensource feed aggregator FeedWordPress by "web developer, student of Philosophy, and sometime political activist" Charles Johnson. The more I more I've used the more fascinated I became by this plugin. I am also very thankful for the smart template Ocomedrev that web developer Antonio Sánchez created. I only modified it slightly.