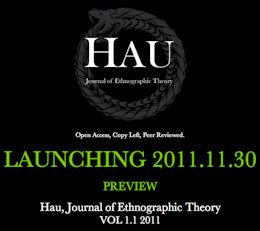 It's Open Access, Copy Left, and Peer Reviewed: Hau. Journal of Ethnographic Theory. Only ten days left, then the first issue will be available online. Yesterday, the preview (=table of contents) of the inaugural issue was posted at http://haujournal.org/
"By drawing out its potential to critically engage and challenge Western cosmological assumptions and conceptual determinations, HAU aims to provide an exciting new arena for evaluating ethnography as a daring enterprise for 'worlding' alien terms and forms of life, by exploiting their potential for rethinking humanity and alterity", it is stated on the journal homepage.
Many well-known anthropologists (from the US and Western Europe only, unfortunately) are among the contributors of the first issue. Will HAU become one of the most important Open Access journals in English and promote Open Access publishing or will it end up as a "One Hit Wonder" as the maybe similar journal project After Culture did?