-or maybe I should say Salaam Aleikum in appreciation of Ramadan, which began a few days ago.
Finally it seems like I'm getting the online diary from my east Paris fieldwork up and going. For the next six weeks I'm settled in an Art Déco building in the hill of Ménilmontant. (Fieldwork will continue for eight more months, from a flat in the neighbouring area Charonne, right on the other side of the famous cemetery Père Lachaise).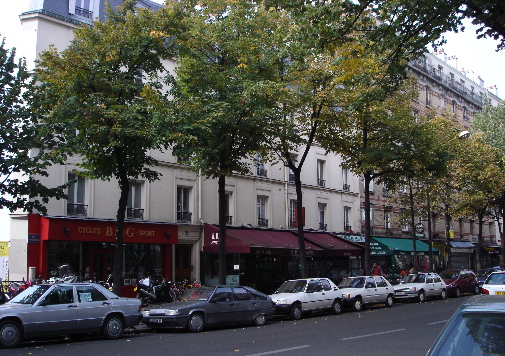 The part of the street where I live is quiet. Just across my Art Déco there is a small, well-ordered French park. Further up, there is an École Elémentaire – from where I can hear a really incredible noise in the breaks, coming from the small, walled off yard common for Parisian schools – and a lycée where the pupils speak the strangest of Parisian dialects (which I can't imagine I'll ever understand). I hear them in the local Alimentation Générale (cornershop) where they come to buy sweets and single cigarettes (and sometimes rizlas in the evening).
The alimentation has lovely Muscat grapes (I think it must be the season) and an all right selection of Algerian wine. The owner is North African, I would guess, and perhaps quite newly arrived? In the evening most customers I've seen, drop by to buy cans of beer or a bottle of wine. – An adolescent, who sometimes mind the shop in the evening, presumably for his father the owner, became a bit embarrassed when a quite drunk, but amicable white Frenchman tipped over my grocery bag and filled the shop with an odour of old wine when excusing himself.
Next to the alimentation there is a Bistrot Général serving meze, Greek yoghurt with honey, baklava, and other Greek specialities. The family running it are not Greek I think perhaps they are of Turkish origin. (I'm thinking of doing a lifestory/areastudy interview with the merchants of the street. I presume it will comprise most continents…). The newsagent and bike repairer further down seem fairly français du souche ("root/winestock French") to me. Then there are a book-crossing café-restaurant with Spanish or most likely Argentinean inspiration, a tea and Narguile (water pipe) café, a couple of Senegalese or other west African internet and mobile phone shops, and a number of other cafés, restaurants and bistros which I haven't got the hang on yet. In addition to a hairdresser, a plumber and other service providers. And believe it or not, this part of the street is short…