Today I was making another attempt on getting a bike. I tried yesterday, at a one-off bicycle market arranged by Mieux se déplacer à bicyclette utside the church Saint Sulpice (between St. Germaine des-Prés and Jardin du Luxembourg, south of the river). But it was too orderly organised for my taste – or patience – with tickets, queuing and waiting, so I didn't bother.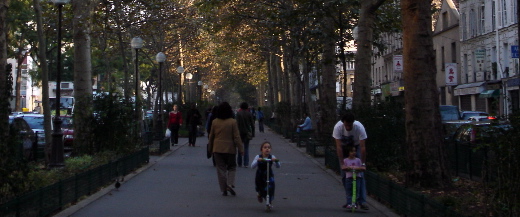 Too much organising didn't spoil the market at Porte de Montreuil, where I looked for a bike today. At Montreuil they have most things, to not say absolutely everything. Just getting off the bus, I even saw a Ford cabriolet for sale for 1600 € (ca 12800 NOK), but both the car and its seller was under quite severe scrutiny by three police officers…
The market is situated just by La Périphérique (the motorway circling Paris), thus the name Porte. At the bus from Gambetta (close to where I live) three black kids (dressed in hip hop gear; hooded training jacket or sweatshirt, large sagging jeans or track suit bottoms), commented loudly that this must be the banlieu, 93 (postal codes, Paris has 75), when we approached the market. A Maghrebi (North African) looking elderly woman sitting in front of them intervened: no, it's the 20th Arrondissement (district). I don't know exactly what he meant by suggesting that this was a banlieu, but he could very well have implied that the character of the place was quite different from the one we had left – just a ten minutes bus ride up the road.
Porte de Montreuil is in the same arrondissement as where I live, but on the way the ethnic and class mix have changed very much (here with a predominance of Maghrebis and blacks). Paris changes enormously much from neighbourhood to neighbourhood. Later in the day I experienced that the gender and age mix changed as well, just strolling down a boulevard.
After I had wandered around among second-hand and cheap street fashion clothes (and loads of grey and dark suit jackets – now I know where many of the old Maghrebi men get their suits) bric à brac, nylon underwear, kitchen utensils and Adidas trainers for a while, I took a packed bus northward to an "Open Gallery Day" along Canal St. Martin in the 10th Arrondissement. Still the east side, still a quite deprived area, - but of course, who goes to "Open Gallery Days" in such areas if not the Parisian bobos (and tourists of course)? Bobos are Bourgeoises Bohêmes (middleclass bohemians), and this part of town is filled with them (or us, I should say…).
Following Boulevard de la Villette and Boulevard de la Belleville on my way home, I first walked amongst Sunday strollers of Maghrebi, white or East Asian origin (a few blacks, but not so many). Many rode bikes, rollerblades, tricycles, skateboards or pushbikes (depending on age, of course, and preference), which are typical Sunday activities in Paris. A couple of women in djellabas (female kaftans in soft fabrics) where sitting chatting on a bench looking after their kids on tricyles, but my impression so far is that more fathers than mothers (if not both) undertake the Sunday entertainment. Further down the boulevard the crowd increased, many of the East Asians were not leisurely strolling at all but burdened with stuffed grocery bags. As I approached Place de Belleville the ethnic mix changed again, tipping towards a predominance of Maghrebis. Certain sidewalk cafés where full of non-consuming "customers" (Ramadan…), – while on the café next there would be non-Muslim consumers amongst its fasting clientele. And suddenly most of the Maghrebi looking women had disappeared, while the boulevard and cafés were overcrowded with men… It was afternoon and soon time to break fast, that might have got something to do with it, I don't know… Reaching Place de Ménilmontant, the ethnic and gender mix got more even again, - despite that there are always a small "overrepresentation" of North African men with a white moustache, suit jacket and a hat or wool hanging out in the square.
A trip from tourist and chic St. Sulpice, to "banlieu-like" Porte de Montreuil, to yuppiefying/gentrifying Canal St. Martin and back again to a Belleville under Ramadan is not that much of a trip geographically speaking, but socially, and in terms of class, its an Odyssey. To read Bourdieu's Distinction has become a must for me after crossing Paris, or just walking down a boulevard…