One month ago I had problems leaving the house in order not to lose out on some heated debate or in-depth reportage covering the riots on TV or radio. Now the debates have entered the public spaces in Paris, and on some days they're so prolific that if I choose one, I lose out on others. For instance last Thursday there was a demonstration against l'état d'urgence sociale (the social state of emergency), supported by a range of political organisations, a few labour unions and at least one political party (Les Verts – The Greens). As such street demonstrations pop up every second day in this city, that opportunity was the first to be eliminated from my range of choice on this afternoon's schedule. It was more difficult to choose between a seminar arranged by the French Association of Anthropologists on the actuality of anthropology and the crisis in the banlieues and a debate at Institute du Monde Arabe on "the children of immigrants and integration". I made my decision on the basis of the number of names of participants originating outside Europe.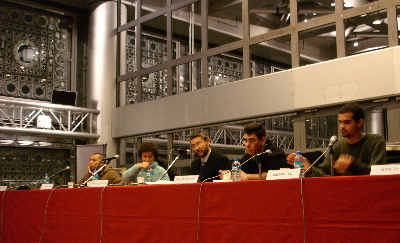 The score on names was 80% versus 0%, and (unfortunately, on behalf of our discipline) anthropology drew the shortest straw. But there were no need to regret my choice. The white 20% at IMA was Dominique Vidal, the editor of Le Monde Diplomatique, and his polite but blatantly hardcore political stance, kicking left as well as right, made him a great chair of the debate. According to him, the crisis should be understood as social and (post-)colonial, with the Interior Minister Sarkozy functioning as the trigger, with his "cleansing the housing estates with fire hoses" rhetoric. The other participants comprised four sociologists aka political activists of various forms, and one rapper. The all argued against the ethicising interpretation of the revolts; that Islam or polygamy is to blame, the youth are not integrated and so on. "It's not a lack of integration," Abdellali Hajjat said, "it's rejection. And it's the structure of French society that is reproducing these inequalities."
With the exception of one or two elderly men, who heated the debate considerably by defending Sarkozy and criticising the revolting youth, the audience seemed mostly to agree with the panel. Just as I heard it amongst second generation youth in London, I hear here as well, over and over again; "if they hadn't come to us, I wouldn't have been here…" The colonial connection seems never to be far away in people's own understanding of the situation, perhaps even less so here and now, than in London in 1999.
The colonial connection as well as the rejection of ethnicity as a factor in the revolt was equally present on the marathon happening of a meeting/concert and what not, that I attended yesterday. But I think this post is long enough, so this will have to do for this time.