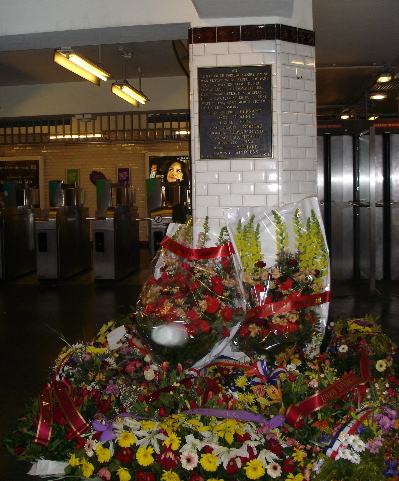 They were mainly pensioners at the commemoration Wednesday, more men than women, mostly white, but also quite a few Maghrebins. A Maghrebi father had brought his two sons in their early teens. Apart from them, there were no children and not many young people (11 o'clock being of course in the middle of work for most people). I spotted a couple of other students or researchers like me (white women), with their notebook and camera, and a handful of photographers or journalists (non-white men of varous ages – one from France 3 (who has a strong regional news coverage) asking an elderly woman in front of me for an interview. To my knowledge it hasn't been shown yet. There was also a cameraman there, filming for a documentary, I heard later).
I arrived late, and the loudspeakers were of not very good quality. Thus as I stood in the back of the crowd of maybe some hundreds(?), I didn't hear much of what was said. However, the member of the Communist Party concluding the event spoke in a loud voice and I heard him make reference to the ongoing realities of everyday discrimination and the deportations of sans papiers (see manif). But above all, he spoke of the commemoration as a travail de mémoire (memory work) to force awareness upon the nation and also an effort to make "the martyrs of Charonne" recognised by state.
"Where are the young Maghrebins?", a white female pensioner asked at the meeting at the townhall afterwards. As I'm reading a book for the moment on the lack of collective memory of this generation (Abdellali Hajjat, 2005: Immigration Postcoloniale et mémoire), I think it's a good question. But, it shouldn't go for only the young French Maghrebins; it goes for all the young French. The participants were all but a very few of a certain age, and the memory of the events in 1961-2 is about to perish with them. The meeting took place at the hall of festivities at the town hall of the 11th arrondissement, an imposing place imbued with symbolic meaning that I haven't got time to go into now. After two brief speeches by an historian (Alain Dewerpe at EHESS, 2006: Charonne, 8 février 1962, anthropologie d'un massacre d'État) and a journalist (Jean-Luc Einaudi: La bataille de Paris, on 17th of October 1961), numerous people in their 60s and 70s testified of their experiences of the time.
Finally, before I go out and take a photo of the memorial plaque at the station, a few words on what took place that day in February, 44 years ago. It was state of emergency in France and 6 weeks later a ceasefire was to be signed. From what I have read, the outcome of the war was already given and acknowledged - except by the illegal OAS (Organisation de l'armée secrete, who in fact has been in the news again lately in relation to the law from February last year on colonialism… more on that later) who were fighting to keep Algeria French. The demonstration was held against the continuous attacks and assassinations carried out by the OAS at the time, and it was organised by a number of trade unions and the Communist Party.