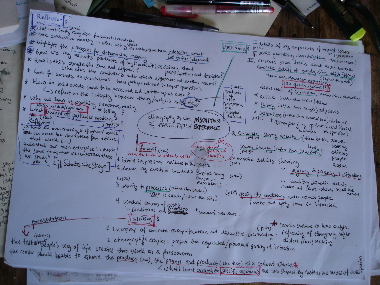 After an oh so long time in the field, I've finally got around to make a summary of some good advice I've returned to from time to time during my stay. They're rather commonsensical knowledge for any graduate in anthropology, but it's surprising how quickly I get accustomed to the details of everyday life, and thus stop paying attention… (from Writing ethnographic fieldnotes (Emerson, Fretz and Shaw, 1995)).
On focus: - how to look in-order-to write (p.26)
*) on a scene: take notice of initial impressions available to the senses
*) give priority to processes (rather than causes etc); what is occurring (rather than why)
*) look for practical concern of actors; - conditions and constraints
On description (p. 32-):
*) write down the details of key components of observed scenes and interaction
*) avoid generalising characterisations – be concrete!
*) concrete sensory details of the scenes, settings, objects, people, action and talk
*) concrete details of everyday life which show (rather than tell)
*) how are emotions expressed (careful with generalisations…)
*) sensory (rather than analytic) adjectives
*) verbatim (rather than summarised) dialogue
+ the accompanying gestures, facial expressions, movements, postures…
*) sensory imagery (rather than evaluative labels)
*) immediate details showing agency and process in situations, auditory and kinetic details – evoke all senses which recall the moment of the experience (p. 72)
*) specify the conditions under which people invoke and apply terms (p. 139)
On reflection:
*) self-consciously recognise my own fundamental orientations (p. 62).
*) avoid evaluative wording; - but when using an evaluative term describe what led to the judgement
*) highlight the process of determining meaning
*) how are my accounts products of my (implicit) decisions about participation and description?
*) how do social events come to be perceived and written up as data? → reflect on the interplay/dialectic relation between theory/analysis and the creation of data. (Data are products of prior interpretative and conceptual decisions (p. 167).
*) which incidents/experiences toughed off particular attention and interests?
*) "see how our own renderings of others' … worlds can never be descriptions from outside that world … understand our own enterprise in much the same terms that we understand those we study" (p. 216)
On writing:
*) remember the interplay of concrete exemplification and discursive commentary (p.174): - remain sensitive to how analytic reframing of ethnography might distort (local) meaning
*) when giving ethnographic examples; present the negotiated, processual quality of interaction (p. 175).
*) remember when presenting: the text about people's way of life creates that world as a phenomenon for the reader (p. 214).
*) the reader should be able to assume the producer (i.e. me), the research process and the product (the text) as a coherent whole → (what I learnt occurred on spesific occations and was shaped by methods and modes of participation) (215).