New Open Access Journal: Anthropology Reviews: Dissent and Cultural Politics (ARDAC)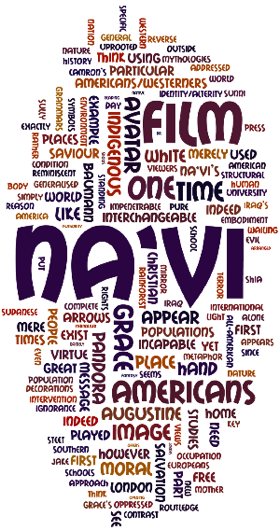 Is this one of the first real web2.0-journals in anthropology? A new Open Access journal was launched: Anthropology Reviews: Dissent and Cultural Politics (ARDAC)
It is no traditional journal. ARDAC was developed from within a social network site (Ning) and its aim is to incorporate web 2.0 technologies, photography, video, internet‐based content as well as traditional text (not in the first issue, though). In addition to traditional abstracts, the articles have their own "word clouds" (see example on the right - from the review of the film Avatar).
Interesting: The journal was inspired by our first Open Access Anthropology Day in 2009 and "is released this month to commemorate the young history of open access anthropology and to join the many new publications under the practice of open access", as editor Àngels Trias i Valls writes in her editorial Open Access Anthropology 2.0 as a type of altermodern experimentation.
The journal is innovative in another way as well: It is more inclusive towards anthropologists outside of the English speaking world: Non‐English speakers are allowed to express themselves in the kind of English that they feel familiar with rather than the kind of edited English that is standard in publications. The journal takes submissions in other languages as well. Work from individuals at early stages of their academic career are welcome as well as more senior academics and inclusive of the academic community at large.
Here a short overview over this issue from Àngels Trias i Valls' editorial:
- (T)he first contributor, Veronica Barassi, send us an article that ethnographically narrated understandings of dissent and cultural politics through the analyses of discursive technologies and political action.

- Nick White looked at the pertinent issue of 'copy' and the issues of legality and illegality in music filesharing on the Internet.

- Hagai van der Host produced a fascinating review of the film Avatar, mirroring some of the ways in which film mythologies correspond to political realities, and how the levels of allegory and projection spoke for discursive discussion on orientalism, the morality of counterfeit and cultural imperialism in the American / Iraqui conflict.

- I was thankful of the opinion articles, from Clare Perkins and Stavroula Pipyrou, because they made distinctive points about the possibility of 're‐ directing the ethnographic lense' (in Clare's case of using anthropology to think about genetically modified products) and re‐telling the social appropriation of violence (in Stavroula's Calabrian Mafia) in a way in which both articles convinced me of the possibility of using anthropology to re‐ position ourselves theoretically and in research practice in larger communities of knowledge.

- At the closing of this number Maria Paulina de Assis and Maria Elizabeth Bianconcini de Almeida brought an article that looked at the relationship between education and digital exclusion from an educational perspective and on the possibilities of multi‐ educational strategies for global educational contexts that have now consolidated through the Internet.
>> overview over the first issue
This entry was posted by
admin
and filed under
Open Access Anthropology and Knowledge Sharing
,
anthropology (general)
,
journal articles / papers
.
1 comment