By Aleksandra Bartoszko. Oslo University Hospital, Equality and Diversity Unit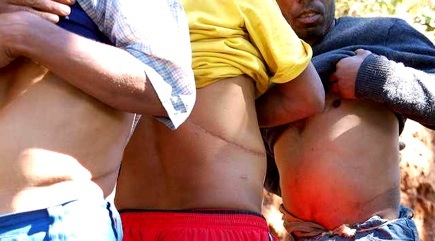 Scars after removal of a kidney. Photo: bee free patrrizia grandicelli, flickr
See part I of the interview Being radical critical without being leftist and part 3: Writing an anthropological detective story
Spring 2011 I attended seminar "Engaging medicine" at the University of Oslo in honor of one of the most prominent medical anthropologists in Norway - Benedicte Ingstad. One of the speakers was Nancy Scheper-Hughes with a paper "Medical Migrations – From Pilgrimage and Medical Tourism to Transplant Trafficking».
Scheper-Hughes is professor of anthropology and director of the program in Critical Studies in Medicine, Science, and the Body at the University of California at Berkeley. She is known for her research on structural and political violence, anthropology of body, illness, suffering, maternity and poverty. Her most famous publications are monographs Saints, Scholars and Schizophrenics: Mental Illness in Rural Ireland and Death without Weeping: the Violence of Everyday Life in Brazil.
Since I got engaged in medical and critical anthropology, Scheper-Hughes has been to me a constant source of inspiration and provocation. As an anthropologist who supports and has been doing public and applied anthropology she co-founded Organs Watch, a medical human rights project focusing on organ trafficking. In more than ten years she has been working on the global organ trade. Following the illegal flow of kidneys, she has mapped the tragic network of rich buyers and poor sellers all over the world.
I always wondered how her adventure with kidneys started. She answers:
– It was a very different kind of a project and it was not one that I ever could have imagined spending so much time on.
– I wrote an article that emerged from chapter 6 of my book "Death without weeping" where I write about bodies in dangers, the dead body and favela residents' fears and their feelings of ontological security or insecurity of the body. And I was studying the emergence of local death squads that were operating after the end of the military period, taking the place of the militarized state. I found that there was real medical mistreatment of poor bodies in clinics, in forensic institutes, and in the graveyard. And above all of this was hovering a terror that people had that their bodies would be used for organs. So I wrote some articles trying to explain why people thought they would be subject to kidnapping for the purpose of organ theft.
– At the time I still thought that this was mainly an urban legend. But then underneath the legend were these real experiences that poor people encountered in forensic medical institutes or police morgues where the unidentified, unclaimed body was, in fact, state property, and (to be crude) chopped up and harvested. So the people were right in fearing that their bodies were not safe.