(Latest update 3.3.2021 - check Amnesty campaign, and PEN America statement - new page Free Ahmed more updates at the end of this post)
Not only in Iran but also in Egypt authorities feel threatend by anthropological research. Especially when the topic has something to do with human rights - in the following case - women's rights and abortion.
When graduate student Ahmed Samir Santawy December last year arrived at Sharm el-Sheikh airport from Vienna (where he studies at the Central European University), he was taken aside by the National Security Agency and questioned about his research. One month later, his family home in Cairo was raided, and the security forces looked through the family's phones. As Ahmed Samir was not present, the NSA officers told his family to send him to the police station as soon as he's back.
The anthropologist went to the police station on January 30 and 1st of February. Since then, nobody has seen him anymore. He never returned.
He was - as many reserachers, journalists, and activists before him - forcibly disappeared.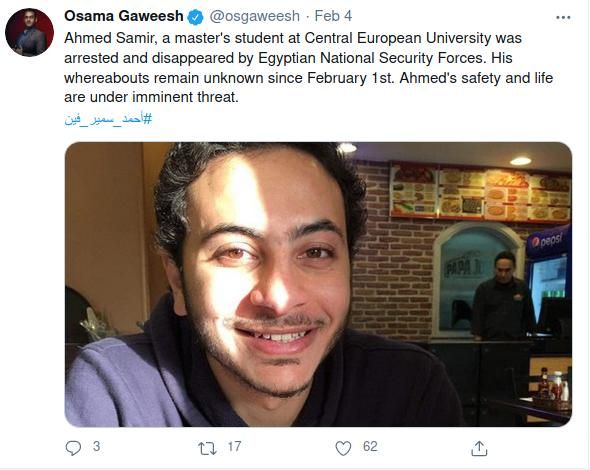 Forced disappearance are usually defined as cases when a state actor or collaborator secretly abducts or imprisons a person and refuses to acknowledge their fate or whereabouts. In Egypt, forced disappearances have become a common way for the regime to deal with its (perceived) opponents and critics.
In Egypt, the case of the Italian PhD student Giulio Regeni from the University of Cambridge is maybe the most famous one internationally. Regini was researching workers' rights in Egypt. Five years ago, while on his way to meet a friend in downtown Cairo, he disappeared. More than one week later his dead body was found on the side of a highway on the outskirts of Cairo bearing marks of severe torture.
But it is only one year ago when another academic, the Egyptian Erasmus student Patrick George Zaki who was pursuing a master's degree at the University of Bologna, was arrested from the Cairo airport and forcibly disappeared, beaten, stripped, and electrocuted on his back and his stomach, and threatened with rape. "A new Zaki case in Egypt" was therefore the headline when Italian news wrote about Ahmed Samir Santawy*s dispperance two days ago.
Ahmed Samir Santawy reappeared a few days ago, frightened and with a swollen face, he was beaten. He was not with his family, though, but behind the bars of the State Security Prosecution of Cairo. He was - as the other journalists, researchers and activists before him - charged for joining a terrorist group and dissemination of false information. He has been ordered held in remand for 15 days by the State Security Prosecution.
In the meantime both the European Association of Social Anthropologists (EASA) andthe Central European University in Vienna call for his release. University rector and president Michael Ignatieff said to Austrian public broadcaster ORF that cooperation with Egypt will be stopped until Ahmed Samir is released.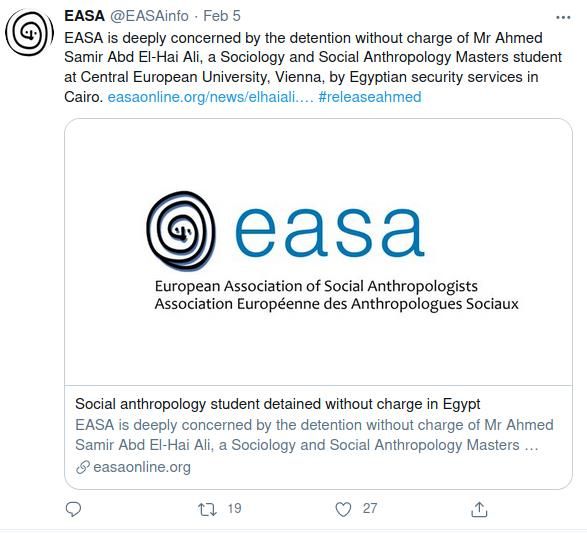 EASA writes:
The European Association of Social Anthropologists (EASA) is deeply concerned by the detention without charge of Mr Ahmed Samir Abd El-Hai Ali, a Sociology and Social Anthropology Masters student at Central European University, Vienna, by Egyptian security services in Cairo. Mr Abd El-Hai Ali is a researcher and student of good standing, working on the history of reproductive law and policy in Egypt.

EASA urges the government of Egypt to take all steps necessary to ensure Ahmed's swift and safe release, that his legal rights are respected and that he is afforded all legal assistance necessary.
The American Anthropological Association also called for his release in an open letter to the Minister of Interior Tawfiq:
(...)
As scholarly associations with a combined membership of more than 20,000 worldwide, we are committed to the principles of academic freedom and freedom of expression in a democratic society. Our Associations stand for advancing understanding of the human condition through anthropological research, and for applying this understanding to addressing some of the world's most pressing problems. As an Egyptian student pursuing his Master's degree in anthropology at Central European University in Vienna, Ahmed is making significant scholarly contributions to help build these bridges of understanding.

We strongly urge the Egyptian Ministry of Interior to do what it can to effect Mr. Samir's release and safe return to his family. Please don't hesitate to contact us if we can provide additional information.
PS: He is both called Ahmed Samir Santawy and Ahmed Samir Abd El-Hai and Ahmed Samir Abdelhay Ali - Arab names are a complicated matter!
PPS: Embedding of Tweets did not work well on all devices, I replaced them with screenshots
UPDATES 8.2.2021
Austrian news sites have started writing about Ahmed Samir Abd El-Hai today, and the Austrian National Union of Students federal body of Representatives callis for his release (in German only):
Forsea - a NGO fighting for human rights in Southeast Asia - also calls for his release:
Ahmed has been involved in several projects with human rights organizations and NGOs in Egypt as a vocal human rights defender. Ahmed's case is the latest in a series of cases of students being harassed and forcefully detained by Egyptian authorities.

Forced disappearance is a threat to those that oppose regimes. In Southeast Asia, forced disappearance has long been a tool for dictatorial regimes to silence critics. For example, in the Thai case, in the past 5 years, there have been 10 dissidents abducted, forcedly disappeared and killed. The disappearance of Ahmed Samir Abdehay Ali reflected this trend of state crimes across the region.
---
UPDATE 12.2.2021: AMNESTY CAMPAIGN
AMNESTY INTERNATIONAL STARTS CAMPAIGN: EGYPT - PRISONER OF CONSCIENCE DETAINED INCOMMUNICADO: AHMED SAMIR SANTAWY: Amnesty asks you to take action and write an appeal. They provide a model letter (pdf)
---
Update 16.2.2021: Support from Scotland: An Edinburgh University graduate is calling for the release of her classmate from an Egyptian jail (The Scotsman 16.2.2021)
Update 3.3.2021: PEN America today joined with free expression allies globally demanding the release of Egyptian student Ahmed Samir Santawy: Detention and Abuse of Egyptian Student is Part of Ongoing Assault on Free Expression, Academic Freedom
Read more / Sources:
Forcibly disappeared graduate student brought before prosecution, handed 15-day remand detention order (Mada Masr 6.2.2021)
Egypt, the student of the University of Vienna has reappeared: he is in prison. "Frightened and with a swollen face, he was beaten" (Italy24News, 6.2.2021)
Egyptian student and human rights advocate detained by Cairo police (TRTWorld 5.2.2021)
Italy charges Egyptian security agency officials over murder of PhD student Giulio Regeni (The Guardian 10.12.2020)
Egypt - Hundreds disappeared and tortured amid wave of brutal repression (Amnesty International 13.7.2016)
Egypt cracking down harder on human rights groups, experts say (The Guardian 23.11.2020)
SEE ALSO:
When research becomes dangerous: Anthropologist facing jail smuggles himself out over snowy mountains
Engaged anthropologists beaten by the Mexican police
Engaged research = Terrorism: Germany arrests social scientists