Doctoral Thesis: Is Islam Compatible with Secularism?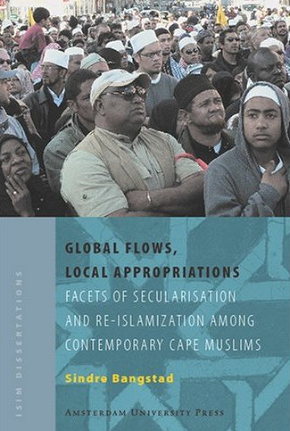 Secularisation is often seen as a process that is associated with the "West" and modernisation, as a process that is opposed to islamisation. In his doctoral dissertation, anthropologist Sindre Bangstad shows that processes of secularisation also emerge from within Muslim communities.
Bangstads dissertation 'Global Flows, Local Appropriations: Facets of Secularisation and re-Islamization Among Contemporary Cape Muslims', is based on 15 months of fieldwork in Cape Town, South Africa between 2003 and 2005.
Bangstad stresses that processes of secularisation and re-Islamization are not opposed to each other. They must be seen as implicated in, and interlinked with, one another:
For instance, I demonstrate that prison 'ulama' in Cape Town have been able to draw on human rights notions and precepts enshrined in the Constitution in arguing for an expansion of religious rights for Muslim inmates. They have done so, in spite of the fact that the mainstream Cape 'ulama' are for all practical purposes opposed to many of the secular and liberal principles of the same Constitution, and many of the legislative and societal changes that they have resulted in.

(…)

It is difficult to understand the discrepancies between the normative models of the predominantly middle-class mainstream Cape 'ulama', and the actual practices of Cape Muslims in underprivileged townships and informal settlements, without reference to prior processes of secularisation understood as a decrease in the regulatory capacities of religious authorities.
In his dissertation, Bangstad present findings from his ethnographic research on black African conversion to Islam in the black African townships and informal settlements, on Muslim women in polygynous marriages in underprivileged communities, on Muslims living with HIV/AIDS, on the status of religious rights for Muslim inmates in a prison, as well as on public deliberations between reformists and Sufis on the appropriateness of certain Sufi rituals.
Muslims in South Africa represent a small minority, with a mere 1,46 percent of the total population in 2001. However, Muslims in Cape Town, the historical heartland of Islam in South Africa, represent approximately 10 percent of the population.
SEE ALSO:
Doctoral thesis: Towards a transnational Islam
Extremism: "Authorities -and not Imams - can make the situation worse"
Akbar Ahmed's anthropological excursion into Islam
New blog: Islam, Muslims, and an Anthropologist
Muslims in Calcutta: Towards a middle-class & moderation
What does it mean to be Muslim in a secular society? Anthropologist thinks ahead
Book review: Mahmood Mamdani: "Good Muslim, Bad Muslim"
Islam in Europe: Mainstream society as the provider of conditions
Islam Is Gaining a Foothold in Chiapas
How Islamic cassette sermons challenge the moral and political landscape of the Middle East
This entry was posted by
admin
and filed under
religion cosmology
,
Africa
,
journal articles / papers
.