Get Out of the Library and Into the Streets - new book by David Graeber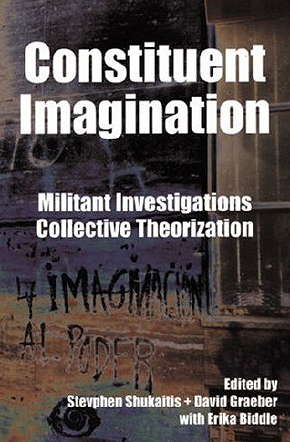 Popular anarchist anthropologist David Graeber is one of the editors of a new book on the relationship between academics and social action called Constituent Imagination: Militant Investigations, Collective Theorization:
According to libcom.org:
The book opens with the editors' provocative history of the academy's inherent limitations and possibilities. The essays that follow cover a broad range: embedded intellectuals in increasingly corporatized universities, research projects in which factory workers and academics work side by side, revolutionary ethnographies of the global justice movement, meditations on technology from the branches of a Scottish tree-sit. What links them all is a collective and expansive reimagining of engaged intellectual work in the service of social change. In a cultural climate in where right-wing watchdog groups seem to have radical academics on the run, this unapologetic anthology is a breath of fresh air.
As Matt Wasserman in The Indypendent claims, there are only few academics with ties to social movements - despite denouncements of "tenured radicals" by commentators on the right:
Plenty of academics write articles for obscure journals on transgression or "interrogate" race, gender and class, but almost none are found in the streets. This is the classic bargain of academia: you can think subversive thoughts as long as you don't act upon them. Case in point: the firing of Constituent Imagination co-editor David Graeber from Yale University's anthropology department.
(…)
The writers who contributed to Constituent Imagination want to tear down the barrier set up within the academy between theory and practice. In an occasionally jargon-ridden, often brilliant and generally provocative set of essays, they theorize and research about the globaljustice movement from within the movement.
(…)
The authors, rather than seeing their role as diagnosing the "objective" nature of the system and on this basis prescribing the correct strategy for social movements to follow, instead attempt to work out what it means to perform engaged intellectual work alongside, in service to and within social movements themselves.
>> read the whole review in The Indypendent
UPDATE: Parts of the book are available online at http://www.constituentimagination.net/

Graeber agrees in that there are "very few anarchist professors" but "a good number of grad students and a very large number of undergrads" according to an interview in The Ready Stock Book where he also explains what he thinks about anarchism. We also get to know that he is working on a history of the idea of debt and on a book developing an anarchist version of world-systems analysis with his friend Andrej Grubacic.
Graeber will by the way begin teaching at Goldsmiths College, University of London, in September 2007.
SEE ALSO:
David Graeber: There never was a West! Democracy as Interstitial Cosmopolitanism
Review of Graeber's book: Fragments of an Anarchist Anthropology / download the whole book
Protests at Yale: When Walmart's management principles run an anthropology department
"Discuss politics!" - How anthropologists in Indonesia engage with the public
More and more anthropologists, but they're absent from public debates - "Engaging Anthropology" (1)
Too engaged anthropology? The Lumpenproletariat on the US-Mexican Border
This entry was posted by
admin
and filed under
politics
,
books
,
anthropology (general)
.