How to save Tibetan folk songs? Put them online!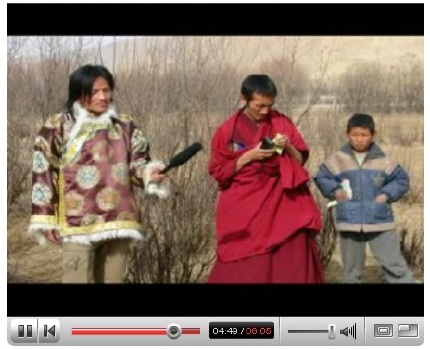 More and more Tibetan folk songs are disappearing. Led by anthropology professor Gerald Roche, the Tibetan Endangered Music Project (TEMP) uses digital media to capture tunes that are being lost. The volunteer-run program aims to put all the digital songs they collect online, as a way of archiving the material for future generations, the National Geographic writes.
So far the students at Qinghai Normal University have recorded more than 250 songs, including melodies for herding, harvesting, singing babies to sleep, and coaxing yaks into giving more milk. "The goal is to digitalize the songs we record and return them to our communities," said 20-year-old student Dawa Drolma. "We want to record as many songs as possible."
"It is quite remarkable how much they have been able to accomplish from such a remote place, thanks to the Internet and digital recording technology," said Jonathan C. Kramer, a professor of music at North Carolina State University who has worked with the students. "It is hard to imagine such a project even 20 years ago."
>> read the whole story in the National Geographic
"One of the biggest challenges that we face at the moment is how to return the music to the communities it comes from," says Roche, as there are few Tibetan communities with Internet access. "Putting it online is a start, but just a small start." Tsering Lhamo from Ngawa, Sichuan suggests, "the music we have recorded [could be] taught in primary schools of Tibetan areas in order to preserve them." according to That's Beijing.
TEMP is remarkable for many reasons according this blog: its ease of growth, use of existing technology with no budget, a method of preservation by people from the culture itself, and a prospect for real use by both local and global communities.
The Tibetan Endagered Music Project has its own website at YouTube with currently five videos.
Related: On the Digital Himalaya website you can listen to music by the Laya (Bhutan and Tibet)
SEE ALSO:
"A new approach to the collection of traditional Aboriginal music"
Multimedia Music Ethnography of Yodelling and Alphorn Blowing
How Media and Digital Technology Empower Indigenous Survival
1 comment
Comment from:
heartfortibet
[Visitor]
Now, this is a man that rocks my world! Thank god Gerald Roche hasn't joined the sheep that want to rant "Free Tibet" from the sidelines! This man is on the ground making a real difference. Not only is he preserving this fantastic aspect of Tibetan culture-he also brings pride into the lives of ordinary Tibetans. Imagine what progress would be made if the Free Tibet campaigners took a bottom-up approach to Saving Tibet, rather than the useless and damaging top-down approach that has brought no benefit to Tibetans in Tibet to this very day. Shame!!
Keep up the great work Gerald! Your work is not unnoticed. Free Tibet campaigners deny that Tibetan culture is being preserved, they treat Tibetans like they are passive victims-rather than active participants in their own lives! Not all is perfect in Tibet under Chinese rule, but it's not all bad either. Go Gerald!!
2009-12-11 @ 11:41