Book review: An Anthropological history of the Adivasis of Bastar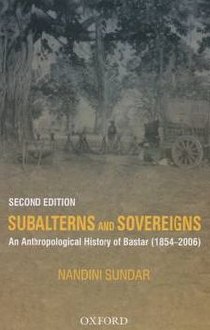 According to Hindu-reviewer Jyotirmaya Sharma, anthropologist and sociologist Nandini Sundar has written an interesting book about the Adivasi in India. The book Subalterns and Sovereigns — An Anthropological History of Bastar (1854-2006) "tells a very complex and nuanced story of the 'adivasis' of Bastar being displaced by centralised models of "development", losing, in turn, their rights over land, water and forests":
The book is a very skilful coming together of anthropology and history. It exhaustively chronicles the story of Bastar from the time colonial administrative structures sought to impose "order" and "civilisation" on the 'adivasis' by imposing colonial prejudices and stereotypes to the present time when state-sponsored private vigilantism in the name of countering the Maoist movement threatens to wreck an entire way of life. It also details the way in which the 'adivasis' have resisted the colonial state in the past and a repressive state now.

But Sundar's study is not an attempt to romanticise either the 'adivasis' or their history as one of "undiluted innocence or even heroism."
>> read the whole review in The Hindu
On her own website, the anthropologist writes about her book:
Anthropologists are often accused of wanting to keep tribals or indigenous people as museum pieces. Subalterns and Sovereigns shows how misplaced this charge is, arguing that forested and hill areas like Bastar have never been outside the 'mainstream' of history, and that the flattening out of local politics to create the appearance of isolation and homogeneity is essentially a product of colonialism and post-colonialism. The choice today, as in the past, has never been one between 'tradition' and 'modern civilisation' or between 'development' and 'backwardness', but over alternative visions of democracy.

By exploring the expansion of the state in Bastar over the past century and a half, and resistance to the particular forms it has taken, this book has been part of redefining the way in which history and anthropology are thinking of tribal India.
For more info about the Adivasi see Wikipedia and Kerim Friedman's posts about Adivasi and Adivasi Rebels