Interview: "Anthropology Is Badly Needed In Eastern Europe"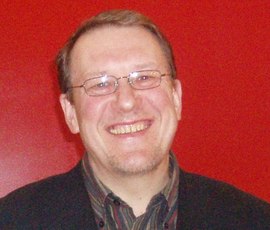 Social anthropology isn't (yet) an established discipline in Eastern Europe. In an interview with me, Vytis Ciubrinskas explains why he thinks anthropology is badly needed.
Vytis Ciubrinskas is Head of the Center of Social Anthropology at Vytautas Magnus University in Lithuania and editor of the scientific journal "Lietuvos etnologija: socialines antropologijos ir etnologijos studijos" ("Lithuanian Ethnology: Studies of Social Anthropology and Ethnology").
Last week, he was in Oslo and lectured at the research program Cultural Complexity in the new Norway (where I work) about identity in post-communist Lithuania.
If you visit Vytis Ciubrinskas' website you'll see that his Center of Social Anthropology is part of the sociology department. There's no Department of Social Anthropology.
He explains:
- Anthropology is not established as a seperate discipline. It belongs to sociology at my university. In many East European countries, anthropology departments are either part of national ethnology, or sociology as in Poland or in the Balkans or together with sociology. This is really a bad situation.
It's the same situation in the other Baltic countries?
- It's the same or even worse. We already have a program in social anthropology and we have started teaching, but that's not the case in Latvia or Estonia. In Poland, the Czech republic and Hungary, anthropology is still a very new thing.
Why?
- Because of the dominance of Volkskunde ("national ethnology" / "folklore studies"). National ethnologists are especially nationally supported: They are dealing with ethnic culture, the soul of the culture ("Volksseele, Volksgeist"). But also archaeology, history, liguistics.
- Another reason: This territory has been a closed society for almost half a century that never took account of global or foreign or cosmopolitan attitudes. Comparative perspectives were not allowed because we had "one system and one truth and one leader". Always, "the world is wrong and we are right".
- Anthropology is badly needed because of the prevalence of national ethnologies. These diciplines have their own established voices in the region. Their orientation is very different from that in anthropology departments in Western or Northern Europe whose professionals work in many spheres of public sectors.
- Spreading information about anthropology is very important, especially in Central and Eastern Europe where anthropology is almost unknown or is known as physical anthropology. It's very important to question the use of self-focused ethnocultural approaches especially where issues of culture, heritage, identity, globalisation are concerned.
What do you mean by self-centered ethnocultural focus?
- Societies in Central and Eastern Europe are open now and live in a new Europe. But we still have with us the inheritance that comes from the approach of a captive mind where "local knowledge and way of life is the best". Globalisation, multiculturalism, all kinds of new influences are taken as threats rather than challenges.
- Cultural policy bureaucrats listen to the local scholars who say: "Look, the end of the world is near. They are starting Halloween parties instead of continuing our old and deep moral tradition of All Saints and All Souls' Day. You must pay respect to your ancestors, light a candle on the grave. This is a very important holiday, and suddenly Halloween comes with crazy parties. It's totally unacceptable. What is to be done?"
- So if we take it seriously and signal like it's the end of the world, it will be a very ethnocentric attitude.
- In my understanding we need real analyses of everyday life, of life-ways, of identity, of identity politics on multiculturalism and globalism and who can do that? I'm afraid not many local scholars do that because, especially in Humanities, they are very much focused on national heritage, tradition, culture, folklore. They need a comparative, a global perspective. And who can provide that? Sociologists? Psychologists? Politologists? I doubt it. Anthropologists are badly needed.
- We need comparative studies and an international team to come and do work in Lithuania. Interdisciplinary is good but international is even better.
- Lithuania is a fertile research field. Transitionalism is very interesting and important to study and is comparable to postcolonial studies which have identified significant problems in former colonial communities.
- Europe is not explored enough in anthropology. Oceania or Latin America are much better explored than Europe. European anthropology and anthropology at home should be taken more seriously than it is today.
What are the major challenges in anthropology? What should be researched?
- 1) Studies of postcolonialism and post-communism. Westernisation is a big issue in postcolonial and post-communist societies but it has not been explored enough: How does western aid and develoment work, what kind of impact does it have on local populations?
- An example is Ida Knudsen's researches on EU hygiene standards - how they are accepted and dealt with. It's somewhat like being at school again with the master prompting you. It's a new standardisation of your culture. In post-communist countries modernity as such is known. It is not bringing modernity to pre-modern societies, it's the bringing of standards which are received or accepted in diverse ways.
- Lithuania is a good example. We have the highest rates of suicide in Europe, maybe in the whole world. We have very high rates of dependency on alcohol, attitude of fatalism, racism, frustration and passivity. This could be blamed on problems of rapid change, uncertainty, but at the same time, I think it might have more to do with the introduction of a new standard, a new way of doing things.
- It's about changing from communism to capitalism and having capitalism not just as an open market but as recipebook. This recipe book syndrome is important to study: How it is accepted? How it is implemented? How does it undermine the old ways? What are the the social consequences?
- 2) Of course anthropology should always be aware of and interested in local knowledge and identity: What is sameness and togetherness in a particular community?
- 3) Antiglobalism. I like very much Jonathan Friedman's idea. He says that globalism is nothing new but what we have to be aware of is the kinds of changes that take place at home. People might be globals but they have stayed more or less the same. Antiglobalism amounts to new religious movements: ecovillages, new ways of consumption. That's all new. Globalism in not new, but antiglobalism is, and it's very inventive.
You're the editor of "Lietuvos etnologija" ("Lithuanian Ethnology"). What do you think of open access to scholarship so that all articles are online for free for everybody?
- It's very important I agree, and we're now on the way to doing that. Very soon you'll be able to read it. But you'll need a good Lithuanian-English dictionary. Of course, we do have summaries of all the articles in English.
You can download two papers by Vytis Ciubrinskas:

Vytis Ciubrinskas: Revival Of Tradition For Reconstruction of Identity. Lithuanian Case (pdf)

Vytis Ciubrinskas: Transnational Lithuanian identity: imagined, constructed and contested in diaspora (pdf)
MORE ANTHROPOLOGICAL RESEARCH ABOUT LITHUANIA:
Kristina Sliavaite: When Global Becomes Local: Rave Culture in Lithuania
Kristina Sliavaite: From Pioneers to Target Group: Social Change, Ethnicity and Memory in a Lithuanian Nuclear Power Plant Community
Irmina Matonytë: Elites in Soviet and post-Soviet societies
SEE ALSO:
In Central-Europe and Poland: "I think that anthropology has never been as strong as it is now..."
Doing fieldwork in Eastern Europe - New issue of Anthropology Matters
Researches neo-paganism in an overwhelmingly Catholic society
New issue of Pro Ethnologica: The Russian Speaking Minorities in Estonia and Latvia
The power of dead bodies in Eastern Europe
Book review: East to West Migration: Russian Migrants in Western Europe
Book and papers online: Working towards a global community of anthropologists