Timo Veikkola - The Anthropologist as Future Specialist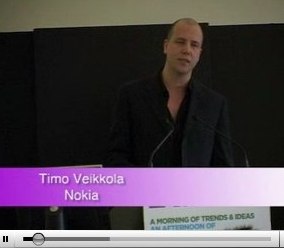 Things are changing: See how an anthropologist is introduced in this story: "As many anthropologists these days he holds a strategic position inside a global corporation." Juliana Xavier writes about Timo Veikkola - anthropologist at Nokia. His jobtitle: "Senior Future Specialist":
As Senior Future Specialist at Nokia Design, he looks at society to comprehend how there are going to be shifts in behavior and culture that can inspire their design team. Timo is a future teller.
Veikkola was one of the speakers at an innovation conference in London (by PSFK). Juliana Xavier has been there and writes that this was the second time in less than an year that an anthropologist came to speak at a planning/marketing/advertising conference:
Last year, Bob Deutsch from Brain Sell (...) talked about treating people as people rather than as consumers. Timo talked about that as well, but also about that as a crucial part of his work at Nokia, or better saying: about how to envision the future through trends, observation and – an expression that I liked a lot – informed intuition

(...)

Timo's trend team is composed of a diversity of people from Brazil to India, from Chile to China - everyone sitting in the same room. It is a way to cultivate the atmosphere in the office, an atmosphere of global and cultural diversity. A good observer of the present wants to be close to people, is keen to get involved and has to seek stimulation through real experience.
>> read the whole article by Juliana Xavier
Veikkola's presentation is available online
>> Watch Timo Veikkola, Future Strategist at Nokia, on a Vision of our Future at the PSFK Conference London
SEE ALSO:
"The science of ethnography is an ideal tool to designing mobile phones"
Popular IT-anthropologists: Observe families until they go to bed
INTEL and Microsoft conference "a coming-out party" for ethnography
Ethnography, cross cultural understanding and product design
Anthropology Matters - New issue out on anthropology of science and technology
This entry was posted by
admin
and filed under
technology
,
corporate & business anthropology
,
design anthropology
.