Cooperation between the Pentagon and anthropologists a fiasco?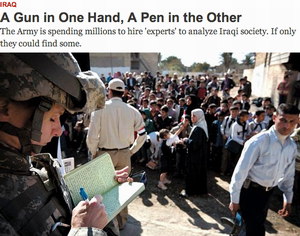 The collaboration between the U.S. military and anthropologists has been criticized for both political and ethical reasons. According to a recent article in Newsweek, the whole project could end as a fiasco: The implementation of the $40 million project has fallen short, according to more than a dozen people involved in the program that were interviewed by Newsweek.
Recruitment appears to have been mishandled from the start, with administrators offering positions to even marginally qualified applicants:
Several team members say they were accepted after brief phone interviews and that their language skills were never tested. As a result, instead of top regional experts, the anthropologists sent to Iraq include a Latin America specialist and an authority on Native Americans. One is writing his Ph.D. dissertation on America's goth, punk and rave subcultures.
(…)
Of 19 Human Terrain members operating in five teams in Iraq, fewer than a handful can be described loosely as Middle East experts, and only three speak Arabic. The rest are social scientists or former GIs who (…) are transposing research skills from their unrelated fields at home.
(…)
Most team members admit they are hampered by an inability to conduct real fieldwork in a war zone. Some complain that the four-month training they underwent in the States was often a waste of time.

Matt Tompkins, who returned home in January after five months in Iraq, said he thought his team provided helpful input to its brigade, but the contribution was more superficial than planners of the program had conceived. "Without the ability to truly immerse yourself in the population, existing knowledge of the culture … is critical," he said in an e-mail. "Lacking that, we were basically an open-source research cell."
Actually, language skills and the fact that you have been to Iran to attend academic conferences can make you suspicious - as it was the case with Zenia Helbig, a 31-year-old doctoral student at the University of Virginia with a concentration in Islamic studies and proficiency in both Farsi and Arabic. She had according to Newsweek one of the more impressive résumés of all the recruits.
She says:
"The running joke was that I was clearly a spy and the only question was which country I worked for."
The articles continues:
The banter turned ugly when, over beers one night, team members began speculating whether the U.S. military would eventually be called on to invade Iran. In the jocular spirit of the moment, Helbig made what she now describes as a careless remark: "I said, 'OK, if we invade Iran, that's where I draw the line, hop the border and switch sides'." In an academic setting, the comment might not have been particularly shocking. Her supervisors settled for a rebuke. But an officer in the program complained to security officials at Fort Leavenworth whose investigation led to her dismissal.
>> read the whole story in Newsweek
According to Wire, "Human Terrain Teams are hopping mad about the Newsweek article" and anthropologist Montgomery McFate, one of the main architects of the human terrain teams, wrote a lengthy response >> read the letter
UPDATE: The American Anthropological Association (AAA) has also responded to the Newsweek article. >> read the letter to the editor on AAAs website
Furthermore, Maximilian Forte has written several related posts recently, see Reviewing the AAA's Report on Anthropology and the Military and American Anthropologists against Counterinsurgency: Part Two.
SEE ALSO:
The dangerous militarisation of anthropology
Anthropology and CIA: "We need more awareness of the political nature and uses of our work"
Protests against British research council: "Recruits anthropologists for spying on muslims"
Oppose participation in counter-insurgency! Network of Concerned Anthropologists launched
Savage Minds: The Fate of McFate - Anthropology's Relationship with the Military Revisited
"Tribal Iraq Society" - Anthropologists engaged for US war in Iraq
Military spies invade anthropology conferences?
"Arabs and Muslims should be wary of anthropologists"
San Jose: American Anthropologists Stand Up Against Torture and the Occupation of Iraq and AAA Press Release: Anthropologists weigh in on Iraq, torture at annual meeting
"War on terror": CIA sponsers anthropologists to gather sensitive information / see also debate on this on Savage Minds
Two Books Explore the Sins of Anthropologists Past and Present
This entry was posted by
admin
and filed under
applied anthropology
,
Middle East
,
University / Academia
,
ethics
.
2 comments
Yes, interesting. Thanks for the link