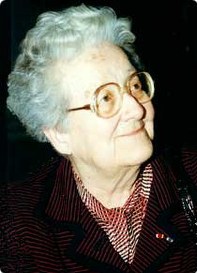 "Few students of anthropology probably can tell you who Germaine is despite the fact that she has been one of the anthropologists who have contributed not only to the understanding of the Mediterranean region, particularly North Africa, but also to the freedom of Europe from the nightmare of fascism and Nazism", anthropologist Gabriele Marranci writes in his post In memory of the anthropologist Germaine Tillion.
Germaine Tillion died on Saturday at the age of 100. Her resistance against injustice and inhuman treatment, Marranci writes, never ceased despite her age. Recently, starting from her experience in Algeria under the French occupation, she had condemned the use of torture in Iraq and the 'CIA secret prisons' as part of the Bush administration's so-called 'war against terror'.
>> read the whole obituary

See also the Reuters article French resistance hero Germaine Tillion dies at 100 and Tillion's website (in French) where also the picture is taken from.