Reggae, Punk and Death Metal: An Ethnography from the unknown Bali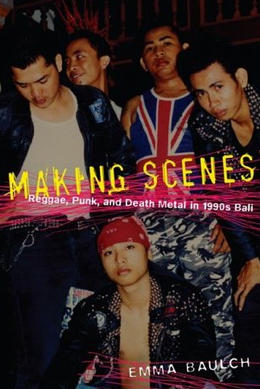 "This is a break from the norm of writing about Bali", writes Laura Noszlopy enthusiastically about a new book by anthropologist Emma Baulch called "Making scenes: reggae, punk, and death metal in 1990s Bali".
In 1996, Emma Baulch went to live in Bali to do research on youth culture. She hang out in the death metal scene among unemployed university graduates clad in black T-shirts and ragged jeans; in the punk scene among young men sporting mohawks, leather jackets, and hefty jackboots; and among the remnants of the local reggae scene in Kuta Beach, the island's most renowned tourist area.
The scene that Baulch has accessed is a deliberately closed and marginalized one, though it is situated largely in Bali's most 'open' places: Kuta and Denpasar. And it is a scene that anthropologists had overlooked or not have not been interested before according to Baulch.
Laura Noszlopy quotes the author who writes that sidewalks of Kuta she entered in 1996 were
… a gaping frontier land of which anthropology rarely spoke … they raged with charged encounters between tourists and street-side watch sellers, drug dealers, drivers, pimps, and whores … punk jams chafed against the pop soundscape emanating from the Hard Rock Café across the road. Mohawks, feigned brawls, Bad Religion, metal spikes, hefty jackboots, and leather jackets thrived (p. 1).
Noszlopy comments:
This is an image that may possibly be familiar to travellers who have stayed in Kuta, Bali's largest resort. But is not one that is found in brochures or highlighted by Balinese cultural commentators, and neither is it one that anthropologists tend to write about
The book also explains the machinations of the various contesting groups within the scene(s):
This is fascinating stuff; I doubt that many observers of Balinese society, or Balinese themselves, will have any idea of the detailed differences and 'othering' that took place not from the perspective of counterculture juxtaposed against mainstream, but between the multiple shifting identities created amongst the various groups. And these, of course, 'othered' themselves against the reggae groups that played in tourist bars.

All, Baulch argues, are somehow part of a peripheral Balinese Other in a love-hate relationship with Jakarta's Indonesian centre, rather than the predictable West. This rather radical and, to some traditionalists, surprising point that Balinese punk is somehow principally about Balineseness and regionalism recurs throughout the book.
"This is the kind of work about Bali that I would like to see more of", Laura Noszlopy writes:
It is truly contemporary. It deals with the complexities of a set of subcultural groups juxtaposed against and yet parallel to the local and national hegemonies. It recognizes the particularities of these groups and many of the individuals who people them, rather than lumping them together as 'youth culture'.

Baulch does not simplify the issues, avoid people's chaotic agency, or seek neat conclusions. Her work seems to embrace the complexity of the process of making scenes in Bali. And it does all this while recognizing the global music scene and late capitalist cultural economy – what Appadurai called the 'global modern'– of which it is also a small, but noisy, part. This is a refreshing change.
But the reviewer writes less enthusiastically about the language of the book (a well known problem in many ethnographies):
The main difficulty I found with the text, however, was the marrying of the sometimes opaque style of theoretical analysis with the much looser conversational mode of the ethnography. While consistently vibrant and entertaining, it was not always complementary. The mixed tone was also apparent across chapters.
The review appeared in the recent issue of Journal of the Royal Anthropological Institute (subscription required)
But I found this text by Emma Baulch: Punks, rastas and headbangers: Bali's Generation X (Inside Indonesia 48: Oct-Dec 1996)
Together with several other researchers, she has written Poverty and Digital Inclusion: Preliminary Findings of Finding a Voice Project
SEE ALSO:
Ainu musicians in Japan: Cool to be indigenous
Anthropologist explores heavy metal in Asia, South America and the Middle East
This entry was posted by
admin
and filed under
Asia
,
globalisation
,
books
,
music
,
youth
,
journal articles / papers
.
1 comment
Zwar kein ethnografischer Film, aber ziemlich interessant: Pang Nat Det von Andreas Geiger. Geiger begleitete eine in die Jahre gekommene deutsche Punkband auf Tour durch Indonesien und bietet Raum für ein schönes Portrait der indonesischen Punk/DIY-Szene.