How anthropology in Eastern Europe is changing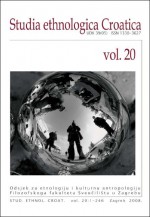 Studia ethnologica Croatica is one of those Open Access journals I've found recently. Their latest issue gives an overview over recent delevopments in anthropology in Eastern Europe. The texts are based on presentations made at the conference 'New Curricula in Ethnology and Cultural Anthropology – Marking the 80th Anniversary of Croatian Ethnology' in Zagreb.
Janusz Baranski is one of several authors who describe how anthropology in Eastern European countries has changed recently. In his paper New Polish Anthropology, he writes:
(T)he Polish tradition of anthropology differs from Western traditions in at least one aspect. Whereas the main subject of the latter were the so-called primitive cultures of the New World, colonized by Western powers; the main subject of Polish and other East European ethnologies were the so-called folk cultures.

Scholars who wanted to deal with non-European cultures did their research in Western academic centers; Bronislaw Malinowski is perhaps the best-known example. The opposition "our - foreign" or "us" and "them" was, in the East European context, identified with the opposition of "upper classes - the people" or "upper culture - lower culture". For East European anthropologist, a peasant filled the role that the Trobriander filled for Malinowski.
He thinks he is a good example of recent shifts of interests within Polish anthropology:
I am a graduate of ethnography – this was the formal nomenclature of the discipline in the communist period (with a thesis on Slavic mythology; so, one would say, a "traditional one"); next I completed a postgraduate degree in ethnology – this is the nomenclature of the discipline in the post communist period (the thesis was on the language of political propaganda; say – a "modern one"); finally, I identify, above all, with cultural studies: my post-doctoral dissertation was on material culture and social symbolism of the material world – commodity aesthetics, fashion, lifestyle, consumer culture.

In this respect, I am a typical example of the tendency among anthropologists, mentioned by George Marcus, to shift from the first project, which is framed by the traditional field of anthropology, into the second – experimental and new for the discipline, which, he claims, is a growing tendency in American anthropology. Not only in American, as we see.
Spiritual culture and folk medicine have become popular research topics, as Antoaneta Olteanu writes in her paper "Teaching Anthropology in Romania":
We should not forget that, under the communist regime, we were forbidden to talk (and write) about the spiritual culture, folk mentality and folk religion (folk Christianity, demonology and such), in order to prevent their interference with the healthy vision of the communist ideology.

This was one of the reasons why, after 1989, Romanians started to publish research of both the ethnological and the anthropological approaches on peasant healing (both text and rituals, but also general representations of illness, demons, personality of the healer, ritual plants, objects and others topics (…).
>> overview over all articles in this issue
SEE ALSO:
Interview: "Anthropology Is Badly Needed In Eastern Europe"
Doing fieldwork in Eastern Europe - New issue of Anthropology Matters
"Take care of the different national traditions of anthropology"
This entry was posted by
admin
and filed under
Europe
,
anthropology (general)
,
journal articles / papers
.