Dissertation: Sexualisation of childhood?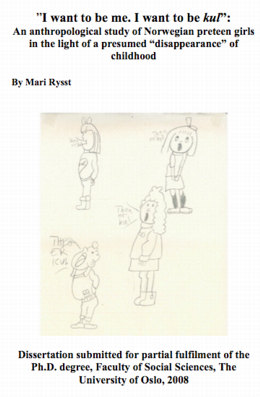 Tight jeans and short tops for seven year-old girls? When anthropologist Mari Rysst was out shopping clothes for her then seven year-old daughter she - to her dismay - mostly found clothes which imitated the teenage look. Seven years later she published her doctoral thesis "I want to be me. I want to be kul" An anthropological study of Norwegian preteen girls in the light of a presumed 'disappearance' of childhood.
In the introduction Rysst explains:
This study aims to explore gender constructions, sexuality and peer relationships among preteen Norwegian girls in the light of a presumed "disappearance" of childhood. The focus is on whether girls' everyday lives are affected by what is currently expressed as the "sexualisation of childhood". The sexualization of childhood forms part of the wider preoccupation that "childhood" is disappearing, as inferred by the above quotation.
But these fears seem to be exaggerated, she concludes:
By doing participant observation over a two year period in two school settings in Oslo, I concluded that the sexualisation of childhood exists in their social contexts and wider milieu, but does not dominate their overall everyday practices and mixed- gender relationships. These are still filled with sports activities and different forms of both traditional and particular play.

Most importantly, the ultimate indication of any (senior) sexualisation, how they "do love", still qualifies as variants of "play", not as older heterosexual practices. This is so because the love relationships are performed according to strict norms or rules. In the first place, they are directed and followed up by the peer community. In the second place, they are a collective rather than a private affair, and lastly, they include a minimum of physical intimacy. (…) The study shows how the subject positions of the kul and of girlfriend/boyfriend did not relate to images of the sexy before the peer group had reached puberty (being aware of individual exceptions).
The notion of the "pure childhood" is,she writes, rather Western - and paradoxical:
Understanding children and childhood in developmental terms has so far meant that children have to be protected from the "evils" of adult society (sex, drugs and violence) in order to become healthy adults. In particular, the positive potential of children can only be realized if they are not "spoiled" (too early) by the "impure" adult world.

In this lies a moral paradox: The ideal, pure childhood is not to involve a preparation for what children will inevitably be confronted with as youths and adults. The paradox is historically and culturally specific, having its roots in the Enlightenment and Rousseau's perception of children as "pure" or "innocent" (Ariés 1962, James, Jenks and Prout 1998).
Mari Rysst has been several times in Norwegian media, see among others my post in Norwegian Doktorgrad: Barn mer opptatt av tauhopping enn G-streng
SEE ALSO:
Transforming the Anthropology of Childhood - Anthropology News April
New book critizises ethnographic methods in market research on children
"We want children to be their own ethnographers"
Anthropologist calls for a greater appreciation of child labor
Technologies of the Childhood Imagination- new text by anthropologist Mizuko Ito
Ethnographic Study: Social Websites Important For Childhood Development