Journal of European Ethnology is going (a little bit) Open Access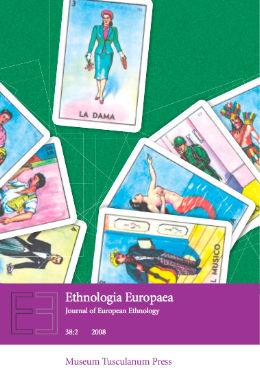 Is Open Access the new buzz-word? Do we see some change in the world of anthropology journals? Angels Trias i Valls recently announced the birth of a new open access journal, Anthropology Reviews: Dissent and Cultural Politics.
And last week, I received an email by Thomas Mogensen, the editor of Ethnologia Europaea. Journal of European Ethnology. He promoted his journal among other things by informing that they support open access publishing. Back issues (older than three volumes) are open access.
And he wrote:
As part of our policy in support of open access publishing, we also would like to offer you a free copy of one of the articles from the latest issue (vol. 38:2). You can access and distribute the article free of charge by using this link: http://www.mtp.dk/pdf/Is_East_Going_West-Or_is_the_West_Moving_East
If we take a look at the previously published volumes, we'll find out that only back issues from 2004 and newer are freely available. Marketing Manager Niels Stern explains that they only had funds to digitize volumes published since 2001 (they were digitized in 2004). "But of course we would like to go further back", he writes in an email to me. Being a non-profit publisher, they are still looking for funding initiatives that could aid in this respect.
At the same time, one of the larger commercial publishers is involved in a scandal. Elsevier has been lobbying against the open access movement for a long time on the grounds that open access journals can't be trusted. Now they confirm that they have put out six fake journals. They look like peer reviewed but were sponsored by unnamed pharmaceutical companies. >> more info at Open Access News
Is East Going West - Or Is The West Moving East is the title of the open access article in the most recent issue og the Journal of European Ethnology.

For her doctoral thesis on (East) German identity-formation in today's unified Germany, Sofi Gerber has conducted biographic interviews with persons who were born and grew up in the GDR and who now live in unified Germany.
She writes:
The most striking thing in the interviewees' picture of the Eastern parts of Germany is their general de- scription of a society falling into decay. Contradictory to the hopes invested in the program Aufbau Ost (Re-Build the East), which has invested enormous amounts in the New Federal Republics' infrastructure and buildings, the interviewees seem, rather, to describe an Abbau Ost (Dismantling the East). My interviewees' narrations include an othering of big parts of Eastern Germany, as a place in which it is impossible or undesirable to live.
But the East–West boundary is not only reified, but also transcended by the interviewees:
This is articulated both implicitly, in that the interviewees stress other identifications, and explicitly, in that the dichotomisation is described as irrelevant or outdated. (…)
The identification with a region or a town can be described as superior to the East–West identification (…).
Most of the interviewees now living in Berlin identify themselves with the city, mostly because of what they describe as its openness, rawness and charm. Berlin is then not only a geographical place, but also a way of living, which is contrasted with the narrow-minded life in the countryside or the superficial life in other cities.
As described earlier, both of these contrasts can be associated with the East and the West respectively, but the special aura of Berlin can also be described as something extraordinary, transcending this dichotomisation. Even when the interviewees identify themselves with one district, this identification is often described as independent of the former border.
>> visit Ethnologia Europaea. Journal of European Ethnology
SEE ALSO:
New overview over open access anthropology journals
Open Access Anthropology in Africa - an introduction
Open access to all doctoral dissertations at Temple University
This entry was posted by
admin
and filed under
Europe
,
Open Access Anthropology and Knowledge Sharing
,
anthropology (general)
,
journal articles / papers
,
University / Academia
.