The Anthropology of Wrestling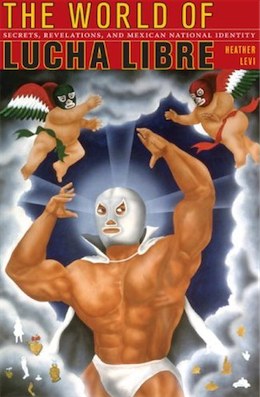 How do you study wrestling as an anthropologist? By becoming a wrestler yourself! Heather Levi's book The World of Lucha Libre: Secrets, Revelations, and Mexican National Identity is featured in the new issue of American Ethnography on Lucha libre - Mexican wrestling.
A long excerpt from the second chapter can be read there - an example of good anthropological writing and according to Martin Høyem, editor of American Ethnography, the best ethnography of 2008.
I found some reviews of the book. According to the Los Angeles Times the book is actually "entertaining". And it places wrestling in a political context:
"The success of figures like Superbarrio lay in the capacity of lucha libre to invoke a series of connections between sometimes contradictory domains: rural and urban, tradition and modernity, ritual and parody, machismo and feminism, politics and spectacle," she writes. And in that tight sentence, Levi nails the appeal lucha libre has had among working-class Mexicans for decades. The various intersections she describes – class, sexuality, gender, xenophobia – are frequently lost on American audiences but make the sport so enjoyable.
"The World of Lucha Libre is one of the most interesting cultural studies of a key pastime in Mexico for many years" according to the Latin American Review of Books, while the Seattle newspaper The Stranger insists that "the first few chapters are pretty dry". But this is to be expected: "Most anthropological writing simply isn't for general audiences".
But the academic nature of the text is something to be overcome:
Levi lays the entire world of lucha libre at the reader's feet, from the adulation of the crowd to the metallic smell of blood in the ring, and the act of creativity, installing the personal narrative, is the reader's job. This is excellent reportage on an endlessly fascinating subject, and Levi should be commended for standing back and letting the luchadores take center stage.
As in previous issues, American Ethnography is really interdisciplinary: It includes images from the Bolivian Lucha Libre scene, a review of a book by photographer Lourdes Grobet on the Mexican wrestling scene and a glimpse into American wrestling magazines from the 1970's on "apartment wrestling", where women - according to the magazine Sports Review Wrestling in 1978 "clash with the fury of primitive savages fighting for their gods!"
SEE ALSO:
This entry was posted by
admin
and filed under
Latin- and Central America
,
gender
,
books
,
journal articles / papers
,
sports
.