"Difficult to read, chaotic, bothering conclusions"
Russia has one of the fastest-growing rates of HIV infection in the world, and the Church remains its only resource for fighting these diseases.
Antropologi.info contributor Aleksandra Bartoszko reviews Jarret Zigon's recent book "HIV Is God's Blessing". Zigon takes the reader into a Church-run treatment center near St. Petersburg that employs both priests and psychologists to work with the HIV-infected drug users.
—-
Review: HIV Is God's Blessing. Rehabilitating Morality in Neoliberal Russia by Jarret Zigon, University of California Press, Berkley, 2011
Aleksandra Bartoszko, Oslo University Hospital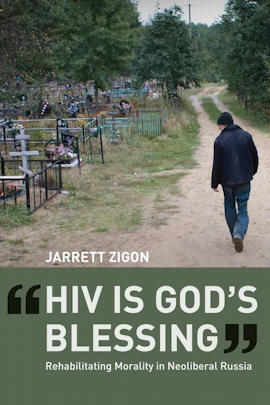 While I was finishing my review of Jarret Zigon's recent book "HIV Is God's Blessing", Somatosphere has just published a review written by Tomas Matza.
When I read it, I was slightly surprised. I asked myself if we read the same book and why have I focused on totally different points while thinking of Zigon's work.
I believe that one of the reasons for the huge discrepancy between what the two of us have learned from reading is our fields of research and interests we had in this book. As I am not too familiar with anthropology of morality and ethics, and many theoretical discussions in the book were pretty new to me, I must admit that this book did not invite me to further exploration of the subject. The book was difficult to read, a little bit chaotic and badly edited.
What Is this Book About?
Jarrett Zigon's book "HIV Is God's Blessing", according to the publisher:
"examines the role of today's Russian Orthodox Church in the treatment of HIV/AIDS. Russia has one of the fastest-growing rates of HIV infection in the world - 80 percent from intravenous drug use and the Church remains its only resource for fighting these diseases. Jarrett Zigon takes the reader into a Church-run treatment center where, along with self-transformational and religious approaches, he explores broader anthropological questions of morality, ethics, what constitutes a "normal" life, and who defines it as such. Zigon argues that this rare Russian partnership between sacred and political power carries unintended consequences: even as the Church condemns the influence of globalization as the root of the problem it seeks to combat, its programs are cultivating citizen-subjects ready for self-governance and responsibility, and better attuned to a world the Church ultimately opposes."
As an ethnographic case Zigon takes a rehabilitation centre near St. Petersburg called The Mill, which is a cooperation between secular NGOs and Russian Orthodox Church, employing thus both priests and psychologists to work with the HIV-infected drug users. Zigon follows his informants both in the rehabilitation centre as well as the recruitment process in the city, and he is attending events arranged by the NGOs and Church outside the Mill.

Writing and the Art of Repetition
How the book is written and its style is usually mentioned at the end of every review. Unfortunately, when it comes to this book, the writing style was so disturbing that it influenced my overall reception of the book. I like some of the stylistic choices, like the description of the road leading to the rehabilitation centre, which I read as a metaphor for the social position of the centre and the life history of the rehabilitants (p. 33).
But unfortunately the book suffers from a very poor editorial work. There are a lot of redundancies, repetitions and the language itself creates at times confusion. It is hard to read this book. The excessive repetitiveness is most disturbing. Usually, there is nothing wrong with repeating, especially for learning purposes, but in this case this is just too heavy and achieving, in my opinion, a ludicrous dimension.
Not to be ungrounded, I am giving an example. These sentences appeared at 3 pages:
"To live sanely in the world, then, is to a large degree to live what Russians call a normal life. But to live normal life, or a sane life, is not to live a life determined by any one discursive and authoritative structure (…) To be normal is not to adhere to one specific way of living - or one specific disciplinary and discursive tradition - but to live within an acceptable range of what counts as normal. (…) In other words, the social world is a range of possibilities, and to live it sanely is to have the sensibility for negotiating these possibilities. (…) That is, as persons work on themselves to fit themselves within the range of what counts as normal, this range is itself altered. (…) There is no one normal life. Just as in statistical analysis normal indicates a distribution, so too a normal life can be conceived of as a distribution of possibilities. (…) That is to say, responsibilized freedom as a "formula of rule" is that which allows persons to negotiate the range of possible discursive traditions, and thus the range of possible ways of living normally in a social world" (pp. 226-229)
Methodology and Analysis
Like most of the contemporary anthropological monographies, the book unfortunately does not offer any extensive presentation of method used during the fieldwork. The author is also sparse in presenting reflections regarding access to field, communication with informants and methodological challenges at all. We are presented with some reflections regarding the author's presence during the activities in the centre. These are of great value.
The author presents also a good deal of quotes, so there is more «talking» from the fieldwork, than «doing», and thus description of how the rehabilitants actually are «working on themselves» (p. 196) is pretty thin. This might be a reason for the ethic/emic problem in the book.
Zigon's normative explanations and conclusions are bothering. At times I even think that he puts words in mouths of his informants. He writes extensively on what the Church means, thinks and wants to do, but when the author does not present any sources, documents, and provides only a small number of references, it is difficult to know where the information, and thus data and conclusions, come from. This lack of methodological transparency worries me. I would also like to know how the informants themselves perceive the «Soviet times» which Zigon refers to, and what kind of change they experienced. It is often unclear where Zigon's knowledge of the "Soviet Man" and Soviet society is taken from except from a rather uncritical use of Oleg Kharkhordin's book "The Collective and the individual in Russia". In this way I experienced Zigon's text as slightly stereotypic.
I also did not like the way Zigon makes generalizations which anthropologists should try to avoid. We often read «Russian mean…» (p. 13) and we read of "American drug program" or "American context" (p. 193). We all know there are different groups of Russians, different ways of seeing the world, life and morality. We also know that there are thousands of rehabilitation programs in USA, so in my opinion speaking about American rehabilitation is not a fruitful way of comparison. Lack of nuances is also disturbing in presentation of the rehabilitation program at the Mill. I would like to know more about the relation of the rehabilitation program and the Church itself.
Rehabilitation and Normality
The book still has something to offer, although I needed to work really hard to dig up the essence of some of the most important ideas of the book. And still, I am not sure if I was able to grasp it. One of the biggest contributions which I see in this book is the processual approach to rehabilitation. Zigon writes:
"That the rehabilitation process is not simply about overcoming addiction. If this were the case, nearly all rehabilitation programs would be considered failures, since studies show that up to 60 percent of clients treated for alcohol or other drug dependence begin to actively use again within a year. There must be something more to this process" (p.3)
I believe that his understanding of rehabilitation as a process is a very important point which should be taken up not only by anthropologists and social scientists, but also by health personnel working on both physical and mental rehabilitation. The book contributes to the rehabilitation study indeed. And the approach can (and should) be applied also to the strictly (if existent) physical rehabilitation. The book adds also some interesting perspectives to normality discussion, which appears mostly in disability studies and medical anthropology. Zigon presents some interesting and new examples on the notion of normality and sane life.
Responsibility
Zigon devotes a significant part of his book to the idea of responsibility, and the changes surrounding the concept and experience of responsibility in the light of neoliberal discourses. This is an interesting idea and I was looking forward to reading Zigon's exploration of this subject.
Nevertheless, the author's reflections lack consequence. To me it was difficult to grasp what kind of changes in the ideas of and perception of responsibility actually had happened. As he included historical perspective and presents extensively the Soviet Man (also, a little bit unclear on what basis but Kharkhordin's book), he also presents the "responsibilized Soviet person" (p. 103). At the same time he writes that responsibility is a neoliberal feature (intro, p. 104, 105). The difference between the "responsibilized subjects" of neoliberalism and during the Soviet period stays still unclear to me.
Neoliberalism(s)
Interested in studies of post-socialism and political changes in Eastern Europe, I was looking forward to reading this book and hoped for an intricate text on changes in neoliberal Russia in relation to church, HIV-patients, drug abusers and healing process at all. Unfortunately, the author seems to stay in rather unfruitful and uncreative thinking box: yet another text which is based on the distinction neoliberalism vs. … Yes, exactly versus what?
The author set up neoliberalism against the Russian Orthodox Church values or Soviet values (when it suits better, is my impression), but the values that he seems to define by himself. His starting point is his own opinions and taken-for-granted, almost populist visions on what neoliberalism is about. Therefore I was extremely happy to read finally (p. 181):
"Many of the values, reasonings, and practices may be quite similar across many global assemblages, but the kinds of persons and the processes by which they come to embody them locally may be quite different. For this reason it may be more appropriate to speak of neoliberalisms".
To me, this point is the most important part of the book. And probably most innovative and brave. Anthropologists tend to work on the discourses of neoliberalism as if they forgot about the locally based communities and the different ways of dealing with the global economy, neoliberal politics and so on. I was therefore delighted to read that Zigon made this kind of reflection and pointed to the nuances in speaking of neoliberalism and neoliberal life and person. Therefore it was also a huge disappointment that on the pages following this important reflection he seems to be back to the stereotypical thinking of neoliberalism as a phenomena or term that stands for itself.
Both before this reflection appears in the book and after, Zigon seems to use the notion of neoliberalism still as a statical, encompassing and all-covering term. And he consequently uses this term in a non-dynamic and generalizing way.
His generalizations are also confusing regarding his own ideas and understanding of neoliberalism by the informants. When he quotes one of Caroline Humphrey's informants, he concludes for example: "Zhenia's comments are not meant to be critical of the dominant discourse and way of life of neoberalism" (p. 151). It is difficult to not know what he means here by life of neoliberalism. And what most important, what Zhenia means by life of neoliberalism? This kind of confronting individuals with the often abstract to them discourses is difficult enterprise, and I am not sure that Zigon has managed to do it.
Punishment from God and Illness Explanatory Models
Regarding HIV/AIDS patients and understanding of the disease and illness experience, Zigon offers an interesting insight into the perception of both the drug abusers and the employees at the rehabilitation centre. As the title of the book suggests, the readers will be given an understanding of perspective that connects getting sick and believing in God. The dominating perspective amongst his informants working for the rehabilitation centre and who shared the view of the Church was that getting sick was "punishment from God for the immoral acts that led to infection" (p. 58).
To readers who are familiar with different explanatory models regarding illness and disease, and especially models which include religion, this statement is not new, and I would like to hear more analysis around this statement than what the author offers. Unfortunately, Zigon does not challenge his informants to give other explanations. It is hard for me to believe that the informants' own reflection on their life, life of the rehabilitants and disease was limited to the moral dimension, mostly circulating around the notion of punishment. Zigon was obviously in search of the moral dimension and thus he found morality discourse everywhere.
It would be also interesting to read more about how the rehabilitants themselves understand their disease and to what degree they share the Church view on sin. This subject is undercommunicated, in my opinion. I supposed that anthropologists interested in illness experience, would also find it interesting to read more explicitly how rehabilitating morality influences this experience. Of course, this was not main focus of Zigon's book. Nevertheless, his ethnography and some of the theoretical discussions on rehabilitation and morality invites to see these in the broader context of illness experience as presented in medical anthropology.
Missing Theoretical Discussion
Zigon devotes also a significant space on the secular vs. sacred distinction. It is thus surprising that there is no theorizing on the subjects to be found in the book. Zigon presents his conclusion that it is not easy to separate these two and tell what kind of social action or phenomena are secular or sacred, but without any following (or preceding) discussion on the subject.
Even if not explicitly written, this book is about social change. While Zigon writes about the Soviet society, he mentions phenomena that according to him are "typical" to change from socialist to post-socialist society. And in this respect, he follows the tendencies amongst scholars of "post-socialism" who often forget that a lot of phenomena that happens, let's say in Eastern Europe, are typical to every society in change, not only the post-socialist ones. In order to keep the comparative perspective that used to be so fundamental in anthropology, anthropologists of post-socialism need to include in their research more reflections which do not limit their research and theoretical work to post-socialist societies or Eastern Europe.
In this respect, I also felt like the discussion on continuity vs. discontinuity is completely omitted in the book. It is methodologically challenging to determine whether social phenomena are inherited from an old order or whether they are an expression of a new situation, and anthropologists should show caution so as not to find the "socialist legacy" where it does not exist. And I agree with Nancy Ries who suggests to look at the cultural systems as "'web of significance' that is constantly woven and rewoven, continually integrating all sorts of historical changes and innovations" (Ries 1997: 22). Still, Zigon work is in a way reducing the complexity of the social process to the model continuity vs. discontinuity without mentioning the problems appearing around this way of thinking of social change.
Works cited:
Ries, N. (1997). Russian Talk. Culture and Conversation During Perestroika. London: Cornell University Press.
Aleksandra Bartoszko is anthropologist, currently working at the Section for Equitable Health Care at Oslo University Hospital and known to antropologi.info readers for her anthropological comic book and her interview about Pecha Kucha as new way of presenting papers. She's also one of the first fieldbloggers.
The first chapter of the book can be downloaded as pdf. More papers and articles by Zigon are available on his homepage and on Open Democracy
This entry was posted by
admin
and filed under
medical anthropology / ethnobothany
,
books
.