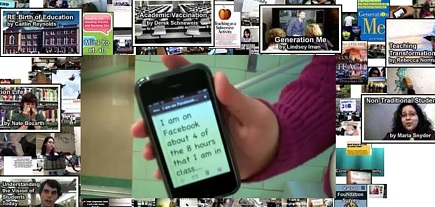 Michael Wesch and his Digital Ethnography Research Team of 2011 has released Visions of Students Today: an exciting "video collage" about student life created by students themselves.
The collage consists of a large number of vidoes that can be watched seperately by clicking directly on the thumbnails (or on YouTube). Each of the students has been working for months to put together their own vision.
Striking: Several students criticize the current education system… (here the video by Derek Schneweis)
and call for a change (video by Haley Marceau)
One of the aims of the project is to enhance the students and the public's media literacy in the digital age and to prevent that "many of the basic freedoms we have become accustomed to" as for example net neutrality", sharing and mixing (…) may be stripped away without the public even noticing".
>> Visions of Students Today Collage
Wesch is the creator of the most popular anthropology videos online, among others "Web 2.0 … The Machine is Us/ing Us" and An anthropological introduction to YouTube
SEE ALSO:
Interview with Michael Wesch: How collaborative technologies change scholarship
Via YouTube: Anthropology students' work draws more than a million viewers
Interview: Meet Dai Cooper from The Anthropology Song on YouTube!
"YouTube clips = everyday ethnography"
New media and anthropology - AAA meeting part III
antropologi.info survey: Six anthropologists on Anthropology and Internet
Anthropology and the challenges of sharing knowledge online: Interview with Owen Wiltshire