antropologi.info finally mobile friendly (and secure)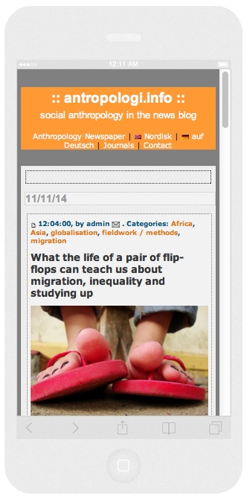 Today I have finally upgraded the antropologi.info's blogging software (b2evolution, not Wordpress!) and made its templates mobile friendly.
So, now, finally, antropologi.info no longer looks so weird when you visit it with your mobile phone. In my tests it looks ok now, let me know if it works for you.
The upgrade isn't finished yet, there are still some things that have to be put in place, like search and new cover images. And here and there, things might not work as expected. On some pages, the sidebar does not show up for some strage reason. I'll fix these things tomorrow, I hope. Feel free to report any issues you might face. Thanks!
Another thing: You may now access antropologi.info with https, partly at least. When the page includes elements from non-secure sites then most browsers will display a warning. This is the case with most pages on antropologi.info as images are referred to with their http://antropologi.info/media URL instead of the secure https://antropologi.info/media I will try to fix that as well. And maybe, soon there will be some new content as well...