Fieldblogging from Nicaragua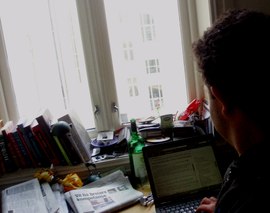 It's a privilege to be an anthropologist on fieldwork. Reading Cicilie's field blog from Paris and now also Antropyton's field blog from Nicaragua makes me wonder: Why am I still sitting on my messy desk (picture) in Oslo?
A few weeks ago, Antropyton has arrived in Nicaragua, and has now started blogging about her experiences including her mixed feelings before she left Norway:
I was terrified by where we were supposed to live, by not understanding Nicaraguan Spanish (especially my hosts!), by not having a will to get to know them, by the scorching heat and by all my ideas dying in the shadow of volcanoes! I wasn't on cloud nine at that time. Frankly speaking, excitement that was accompanying me for so long, disappeared as if by magic.
But then in Latin-America, everything changed:
Once I landed in San Jose in Costa Rica, I did realize that reading anthropology is something totally different than DOING anthropology.
(...)
I knew at once that this was going to be hard. But I was excited. Still, I had the will to conquer the world and carry out what I had planned the last few months. The world was new and beautiful and waiting for me.
(...)
It's much better now, as one could suppose. I've started classes and tamed the city. Usually I don't need much time to adapt myself to new environments. Albert Camus has a point in one of his essays (...) Like me, after a night in a hotel, the next morning he goes out on the street and click! you feel at home.
>> read the whole entry "Bienvenido"
Her most recent entry is about Nicaraguan conference culture:
The event was inaugurated with a national anthem, something that gave a dignity to the event. And the opening words seemed to go on endlessly. Every member of the organizing committee was welcomed and mentioned by name, academic title, organisations and institutions one belongs to and a post one has.

(...)

Every presentations was followed by a discussion that almost always ended with talk about politics, the new government and changes in policy that are essential to improve the health condition for the people. (...)What I observed was that presentations from Sweden (the conference was organized in cooperation with Lund University) were more "society friendly". I mean that they presented not only results from their research, but also suggestions for how to apply this knowledge into society.
>> read the whole post " III Conference on Multidisciplinary Environmental Research, Managua"
Also take a look at her pictures of volcano Cerro Negro and her new hometown Leon.
UPDATE (14.2.07): What happened? In her newest post she asks us Do we need/have to like our informants?
SEE ALSO:
New blog: Blogging anthropological fieldwork in Brazil
Open Source Fieldwork! Show how you work!
Paper by Erkan Saka: Blogging as a Research Tool for Ethnographic Fieldwork
Fieldwork in Papua New Guinea: Who are the exotic others?
On fieldwork: "Blogging sharpens the attention"