New journal: "Radical Anthropology" with David Graeber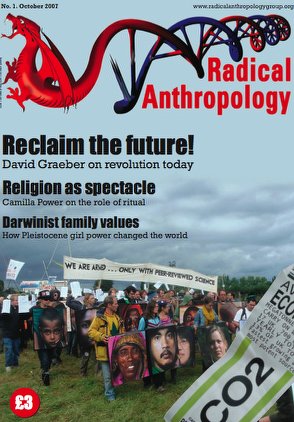 David Graeber is one of the authors in a new journal called Radical Anthropology. The journal is available for free. You can download it as pdf-file. The journal follows Graebers vision of anthropology as an "intellectual forum for all sorts of planetary conversations" that makes "common cause with social activism for the sake of human freedom".
The first issue consists of two essays
David Graeber: Revolution in reverse
The idea of radical change today seems unrealistic.Why?

Camilla Power: Religion as spectacle
Richard Dawkins may think it's just a delusion, but religion had amore interesting evolutionary role than that.
The journal is edited by The Radical Anthropology Group that was founded back in 1984. Many members are active in indigenous rights movements and combine academic research with activist involvement in environmentalist, anticapitalist and other campaigns.
>> download the first issue of "Radical Anthropology
>> previous publications by The Radical Anthropology Group (lots of papers!)