Anthropologist explores heavy metal in Asia, South America and the Middle East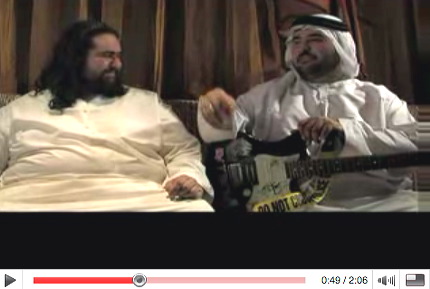 In 2005 his movie Metal - A Headbanger's journey took the world with storm. Now anthropologist and metal musician Sam Dunn has released "Global Metal" - a film about the global expansion of heavy metal music.
Together with his co-director Scot McFayden, Dunn visited metal fans in Brazil, Japan, China, Indonesia, Israel and Iranian metal fans in Dubai.
The film seems to be especially relevant for theories on globalisation, cosmopolitanism, and social movements. As we read on the film's homepage:
GLOBAL METAL reveals a worldwide community of metalheads who aren't just absorbing metal from the West – they're transforming it. Creating a new form of cultural expression in societies dominated by conflict, corruption and mass-consumerism.
Reviewer Liz Braun notes in the Winnipeg Sun:
In every country, metal has been bent and remade to reflect the culture. In India, metal fans talk about Bollywood music. In China, kids learn metal licks at a music school devoted to rock. Kaiser Kuo of the band Tang Dynasty talks about the underground metal scene in Beijing. In the Middle East, a Muslim says, "I got caught by the religious police for wearing a Slayer T-shirt and having long hair."

(…)

Global Metal confirms that music is an international language. Particularly in countries where war and oppression are the norm, metal seems to represent a crucial outlet for emotional expression.
Unlike many facets of so-called "Western culture", metal has not been spread by mass media, but rather by word of mouth and the internet. After the success of their first film, Dunn began receiving emails from places he didn't even know had a metal culture, he tells to The Age:
There were a lot of countries that didn't get proper distribution of the film, and we started to get emails from India and Iran, from people saying, "We've heard about the film or downloaded it, but come and check out metal in our country."

We knew about metal in places like Brazil and Japan; we didn't know the full extent of how metal is spread around the world.
In an interview with twitchfilm.net, Scot McFayden says that they even hired researchers for their movie.
Sam Dunn tells that he was especially surprised about heavy metal in Israel:
I was really struck by our experience in Israel actually and the degree to which the Metal that the Israeli kids listen to and perform has such a strong personal relevance for them.

When I was growing up as a Metalhead, the lyrics were never necessarily reflecting something I was going through as a person. (…) But to go to Israel and talk with people that are living through a day to day reality of conflict and war. It was quite eye-opening for me and I realized that Metal can mean something very different to people depending on where you come from.
In an interview with Victoria Times Colonist he says learning about metal communities in other countries changed his views on Heavy Metal:
Being a fan of metal in Iran means you're putting, at some extent, your personal safety at risk. Kids have had their hair cut [off], their T-shirts taken away, rehearsal rooms raided and gear confiscated, so we realized being a metal-head is a far greater statement [there] than being a snotty-nosed teenager with a Slayer shirt who wants to piss off your parents.
According to the SeeMagazine, "Dunn is a major reason the film is so charming":
He's tall and lanky, forever wearing the same Mastodon t-shirt and awkwardly tucking his shoulder-length blond hair behind his ears. That earnest, unassuming quality makes him a likable character, but it also makes him an extremely effective interviewer: everyone seems to want to talk to the guy—not just Chinese record store owners and struggling metal bands from Iran, but ex-Megadeth guitarist Marty Friedman (who now makes his career appearing on Japanese variety television) and even Lars Ulrich, the notoriously prickly drummer for Metallica.
SEE ALSO:
The Rediff Interview/Nandini Chattopadhyay: Music and Protest
Socially conscious hip-hop is worldwide phenomenon
Cultures of Music Piracy: An Ethnographic Comparison of the US and Japan
How does music create community? Interview with Jan Sverre Knudsen and Stan Hawkins