Lila Abu Lughod: "In Israel and Palestine we have an amazing opportunity"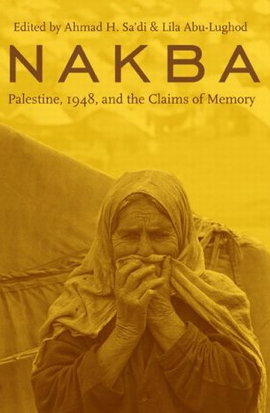 (via CultureMatters) While Israelis celebrate the 60th anniversary of their state's founding, Palestinians around the world are mourning the "Nakba" - or "catastrophe" - that drove so many into exile. SPIEGEL ONLINE interviewed anthropologist Lila Abu-Lughod on the Nakba and today's Palestine.
Together with Ahmad Sa'di, she published the book "Nakba: Palestine, 1948, and the Claims of Memory". Abu-Lughod's father was Palestinian.
"I don't see the anniversary as a time of mourning but as an occasion for trying to get the world to listen to what really happened and to think about how this should shape our vision of a solution", she says:
Palestinians and Israelis are tightly entangled. Any resolution must involve a recognition of the fact that Israel was founded on the expulsion of Palestinians. Then we can think and talk together about restitution, redress, compensation, or whatever it takes for a more just way forward. In Israel and Palestine we have an amazing opportunity – to think about changing history by considering a democratic state with a living future for everyone.
The number of those who actually lived through the Nakba decreases every year. The Nakba commemoration has spurred storytelling, the anthropologist says:
Dr. Rosemary Sayigh, who has been interviewing Palestinians about their experiences for decades, describes her work as a race against time. But Diana Allan, an anthropologist from Harvard who has been videotaping old men and women in the refugee camps all over Lebanon to create a Nakba Archive, would be the first to insist that though it is important to get these stories, it should not distract us from the contemporary problems Palestinians face, in Lebanon and elsewhere.

I have been following with interest, though, the way this particular Nakba commemoration has galvanized people and spurred storytelling: a good example is the series of "untold stories" on the Web site of the Institute for Middle East Understanding.
>> read the whole interview in SPIEGEL ONLINE
For information on her book on Nakba, see the Columbia University Press blog, The Institute for Middle East Understanding, This Week in Palestine and the review on H-Net.
SEE ALSO:
Lila Abu-Lughod: It's time to give up the Western obsession with veiled Muslim women
New book by Lila Abu-Lughod: The Politics of Television in Egypt
Interview with Lila Abu-Lughod on women and Islam in the wake of the American war in Afghanistan (Asiasource)
Anthropologists on the Israel-Lebanon conflict
"Voices": Anthropologist publishes e-book about Palestinian women
This entry was posted by
admin
and filed under
politics
,
Us and Them
,
books
,
persons and theories
,
Middle East
.