Secret knowledge exchange at Europe's largest anthropology conference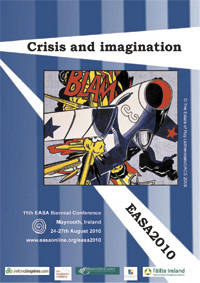 A bit more than two weeks ago, around 1300 anthropologists from all over Europe left the university village Maynooth not far away from Dublin. Europe's largest anthropology conference, the biennial congress of The European Association of Social Anthropologists (EASA) was over.
As usual, hardly any information about the knowledge that was exchanged at the conference, found its way to the public.
Here is what I found.
Eoin O'Mahony, geographer at Maynooth, sums up the opening keynote lecture by one of the most famous anthropologists around - Talal Asad.
"As far as I can tell", he writes, "the lecture laid out the ground for a new anthropology of terrorism and human rights". Talal Asad "mapped out the economy of liberal human rights where the reorientation of the concept of 'just war' made certain peoples' deaths necessary to safeguard the lives of others".
Asad's paper, which his speech is based on, is available online (pdf - download it before they remove it!). Or check also an earlier post Selected quotes from "On Suicide Bombing" by Talal Asad.
Philipp Budka 
(University of Vienna) is the only one who has written a report about the conference. It focuses on workshops that deal with media (technology). Several bloggers are among the paper givers, for example John Postill, Alexander Knorr and Gabriella Coleman (who blogged a little bit about her Ireland trip).
Stéphane Voell, blogger at Traditional Law in Georgia, is wondering if it was worth organizing a workshop after not more that seven or eight people showed up. It reminded him on the days when he as a 17 year old was playing in his school band (Text in German only).
Finally, Cicilie Fagerlid explains us why she is calling conferences for festivals:
The more anthropology (or other academic genres) I engage in during a 3-4 days period, the more engaging it gets. Listening to debates and commenting on papers during the day, and discussing, chatting and mingling during the night, with too little sleep in-between high-wire the brain in a very creative and inspiring fashion. The first time I experienced it, weeklong camping on rock festivals was still fresh in my memory, and that experience was what an anthropology conference reminded me of.
Are there some blog posts I haven't seen? Something about EASA 2010 you want to share?
UPDATE (18.10.10): Digital Anthropology: An EASA Workshop (Heather Horst, Material World 13.10.10)
SEE ALSO:
The Secret Society of Anthropologists
What's the point of anthropology conferences?
Conference Podcasting: Anthropologists thrilled to have their speeches recorded
First reports from Europe's largest anthropology conference (EASA 2008)
Anthropology and the World: What has happened at the EASA conference (2006)?
What happened at the AAA-conference in San Jose 2006 - a round up