Happy New Year with lists!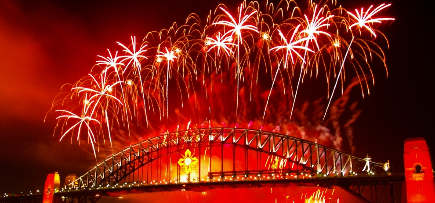 Happy New Year to everybody with a firework from Sydney (photo by Rajwinder Singh, flickr) and thanks for reading antropologi.info, commenting and contributing to this blog and other blogs!
In 2009, when antropologi.info turned five years old, I was especially happy about contributions from you, from readers. In March, Tereza Kuldova has started writing book reviews - the first one about Hindu Divorce: A Legal Anthropology by Livia Holden. The most recent one went online just a few days ago: Photography, anthropology and history by Christopher Morton and Elizabeth Edwards.
Karstein Noremark wrote an report about the Open Access Week in Wellington, and Siham Ouazzif sent me her thesis "Veiled Muslim Women in Australian Public Space: How do Veiled Women Express their Presence and Interact in the Workplace?". I also received a text by Lykke V. Bjørnøy: Are homosexuals impure according to Sunni Islam?. I was also glad over that I could interview Dai Cooper about her Anthropology Song
On the 1st of May, we celebrated the first Open Access Anthropology Day. Sara at Sara Anthro Blog has taken the initiative to this event. For this occasion, I've made a new overview over open access anthropology journals.
Personally, my most important blog post was about The Anthropology of Suicide. It was also the most personal blog post I've ever written.
Some lists
2009 was a very interesting blogging year, and anthroblogging hasn't stopped during the holidays and new year. Several bloggers ended 2009 or started 2010 with lists. Here are some of them:
Greg Downey has compiled an impressive list of suggestions for how to organize better conferences. His list should be compulsory reading for all conference organizers. He is as he writes "a big fan of the good conference, but I've also been traumatized at academic conferences".
Maximilian Forte is "almost ready to resume winding down" his blog Zero Anthropology (started as Open Anthropology) and sums up with Zero/Open Anthropology Top Posts 2009.
Barbara Miller from AnthropologyWorks has written several lists, one of them is Anthropologyworks 10 best of 2009.
"One useful thing about blogs is that they also serve as a kind of 'digital memory'", writes Julian Hopkins in his post My 2009.
Anthro Turbo-blogger Erkan Saka collected some interesting happy new year images. I really like his introduction:"Special days like New Year's Eve make me so tense. Social pressure. Such alienation, such loneliness. It all comes back to Durkheim's arguments in Suicide. I hope it passes very quickly."
While Language Log discusses the question How to pronounce the year 2010 (67 comments so far!), Gabriele Marranci turns to the anthrosphere with a New Year wish.
In his post Selling lives: Rohingyas face deportation from Bangladesh, he invites his colleagues to focus more on the Rohingya, "highlighting their inhuman condition in Burma (Myanmar) and Bangladesh,  as well as their status of  the "gypsies" of Asia":
Bangladesh has signed a deal with Burma to import gas and electricity and export back Rohingya:
Today is the first day of 2010. Many of us have celebrated the new year while 9000 Rohingya, the first of many more to come, are not able to oppose the Bangladeshi decision of deportation without any safeguard to their original home, which, like Nazi Germany for the German Jews, has decided that they are aliens who are as 'ugly as ogres'. This time, however, it is not the shape of the nose to be singled out, but rather the Hindi features, particularly the skin colour.

Tragically, convoys starting from the Bangladeshi border will soon deport the Rohingya, men, women, young, old, healthy, and unhealthy to a uncertain destiny. No external body, agency or Red Cross will be there to witness the deportation. There only exists the indifference of a world increasingly ready to sell souls for more profitable commodities.
UPDATE: Of course Savage Minds has made a great list, published just a few seconds ago: Savage Minds Rewind: The Best of 2009
This entry was posted by
admin
and filed under
anthropology (general)
,
internal notes
.