When anthropology is begging for attention: PopAnth website launched
Regularily, new initiatives are launched to make anthropological knowledge more accessible to the general public. A few weeks ago, PopAnth was launched - a highly ambitious project that "translates anthropological discoveries for popular consumption" as they explain:
We take anthropology's collective knowledge and translate it for mainstream audiences, much in the way that popular science books, tv shows and trivia quizzes make even the hardest of sciences accessible. We strive to provide you with the best of anthropology in a format that makes you go, 'Wow! I didn't know that!' Our cross-cultural stories aim to help you discover things about yourself and the world you live in.
That sounds - apart from the corporate PR-language - good and is exactly what we need more of in the social sciences. And already after a few weeks, there are a lot of articles about a wide range of topics about everything from backpacking, human emotions and Japanese consumers. And yes, they are all written in an easily understandable language. Yeah!
This also applies to the book reviews, where they also chose to focus on books that might be able to attract a wider non-specialized readership like Watching the English by Kate Fox or Haiti After the Earthquake by Paul Farmer.
And they've also set up a discussion forum.
But as a look at their first articles also reveals, this project suffers from similar shortcomings as many others we find online. It is a rather Western / US-centric endavour in the sense that the "we" that is invoked and articulated in many articles means "We Americans" or "We in the metropolitan West". Most of the authors have an US- or Britain-based background.
I'm still waiting for the globalisation of anthropology.
In my opinion a thematic focus and stronger connections to current issues and bigger questions would benefit the site and attract more readers. The content of the articles seems to be somehow arbitrary, and their focus sometimes too narrow.
Maybe more articles are needed who ask such big questions as Edward F Fischer does in his interesting piece Can reducing our choices increase our happiness?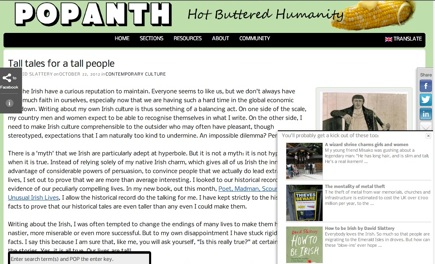 "Share me, like me, look here!" Maybe a bit too messy?
Another thing that struck me as typical for our time is the cry for attention, the cry for being shared and liked. Big sharing buttons everywhere, one of them even covers parts of the text, and makes it unreadable. And when we are approaching the end of the article, we get attacked by a huge popup with the message "You'll probably get a kick of these too".
The PopAnth project started by the way after a discussion on newly formed PopAnth group, founded by Erin Taylor at the Open Anthropology Cooperative.
Two years ago I looked at a similar initiative with a very similar name, and as the title of the post I chose Popular Anthropology Magazine = fail. This journal does not seem to exist anymore. All we see is a post called Welcome to Popular Anthropology Relaunched, but all the articles are gone. But there are ads for firewood and business intelligence software… …