When anthropology is begging for attention: PopAnth website launched
Regularily, new initiatives are launched to make anthropological knowledge more accessible to the general public. A few weeks ago, PopAnth was launched - a highly ambitious project that "translates anthropological discoveries for popular consumption" as they explain:
We take anthropology's collective knowledge and translate it for mainstream audiences, much in the way that popular science books, tv shows and trivia quizzes make even the hardest of sciences accessible. We strive to provide you with the best of anthropology in a format that makes you go, 'Wow! I didn't know that!' Our cross-cultural stories aim to help you discover things about yourself and the world you live in.
That sounds - apart from the corporate PR-language - good and is exactly what we need more of in the social sciences. And already after a few weeks, there are a lot of articles about a wide range of topics about everything from backpacking, human emotions and Japanese consumers. And yes, they are all written in an easily understandable language. Yeah!
This also applies to the book reviews, where they also chose to focus on books that might be able to attract a wider non-specialized readership like Watching the English by Kate Fox or Haiti After the Earthquake by Paul Farmer.
And they've also set up a discussion forum.
But as a look at their first articles also reveals, this project suffers from similar shortcomings as many others we find online. It is a rather Western / US-centric endavour in the sense that the "we" that is invoked and articulated in many articles means "We Americans" or "We in the metropolitan West". Most of the authors have an US- or Britain-based background.
I'm still waiting for the globalisation of anthropology.
In my opinion a thematic focus and stronger connections to current issues and bigger questions would benefit the site and attract more readers. The content of the articles seems to be somehow arbitrary, and their focus sometimes too narrow.
Maybe more articles are needed who ask such big questions as Edward F Fischer does in his interesting piece Can reducing our choices increase our happiness?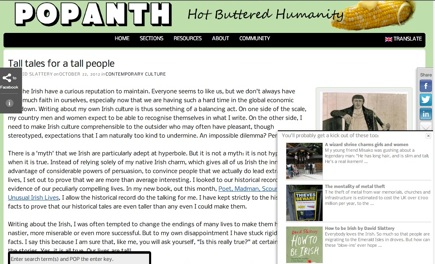 "Share me, like me, look here!" Maybe a bit too messy?
Another thing that struck me as typical for our time is the cry for attention, the cry for being shared and liked. Big sharing buttons everywhere, one of them even covers parts of the text, and makes it unreadable. And when we are approaching the end of the article, we get attacked by a huge popup with the message "You'll probably get a kick of these too".
The PopAnth project started by the way after a discussion on newly formed PopAnth group, founded by Erin Taylor at the Open Anthropology Cooperative.
Two years ago I looked at a similar initiative with a very similar name, and as the title of the post I chose Popular Anthropology Magazine = fail. This journal does not seem to exist anymore. All we see is a post called Welcome to Popular Anthropology Relaunched, but all the articles are gone. But there are ads for firewood and business intelligence software… …
12 comments
Comment from:
Gawain Lynch
[Visitor]
Hi Lorenz,
Thanks so much for the feedback, all well noted, and some changes already made!
I have agonised for a while on the sharing and internal promotional elements of the site, and am by no means done. It is early days, we really have only been operational in a practical sense for a little over a month. I would comment that sharing options is a matter of taste and you can't please everyone, and as I mention, we're still experimenting to see what works.
Gawain
Hi Lorenz,
Thanks so much for the feedback, we really apreciate it! I agree with much of what you say, especially your call for our writers to as 'the big questions'. We look forward to your submission :-)
We'd love to make our site more 'global' and are actively working on trying to do just this. If there's anyone out there who's passionate about public anthropology, feel free to put your hand up - there's plenty more room for authors, editors and community advisors!
In fact, we're already doing pretty well, considering that it's early days. Less than half of those involved are from US or UK backgrounds, and even fewer still reside in those countries. John McCreery has lived in Japan for some thirteen years; Keith Hart's based in Paris and Pretoria. We have Gaby and Igor from Mexico, Melanie Uy from The Philippines (but residing in The Netherlands), and David Slattery from Ireland (definitely not the UK!).
Looking forward to continuing the conversation. For those who want to be involved, the OAC group is a great place for discussions, and the PopAnth website forums were also set up for that purpose.
Best
Erin
Hi Erin and Gawain, thanks a lot for your comments. Yes, I see the big popup is already gone! Good to hear that we you're making it more global and that we actually don't disagree (didn't expect that either)
Lorenz
Comment from:
David Slattery
[Visitor]
As an anthropologist from, living & working in a former-colony I am familiar with questions around the representation and even legitimacy of anthropology. Consequently, I am obsessed with how to represent myself! I think the problem of who is representing what and to whom is core to the current manifestation of our anthropology crisis - to be addressed partly by making it more accessible, intelligible and readable. Anthropology is set to continue in crisis into the future because we live in an unequal world. I am convinced that one of the reasons why anthropology has adopted a gratutious elitist jargon, driven by academize, is a consequence of its origins in colonialism where the object of the study must be distanced from the superior perspective of the researcher. This site supports plain speaking and that is why I am on-board.
But are we supposed to solve this massive conundrum before we even begin to build a forum with the glorious goal of facilitating more voices. Equality is more than the simple expression and aspiration for equality that we make at the beginnings of our struggles. It is the struggle itself! I am ready to struggle on this site.
Go David! Happy to be struggling with you.
Wise words, David! Thanks!
Comment from:
Jonathan Mair
[Visitor]
This looks like an excellent initiative…but please, please, please provide an RSS feed, I'm sure this would enable many others to keep up with the site too.
Comment from:
Jonathan Mair
[Visitor]
Hooray! - thanks. I'll be reading, good luck with it.
Thanks guys! Please do keep telling us what you think could be improved. This is a work in progress and we are experimenting a lot.
Besides delivering content, the idea is to provide a tool that everyone doing popular anthropology can benefit from. We intend to use the Analytics to tell us what works and what doesn't, and we'll share what we've found publicly.
Regardless of PopAnth's future, I'll consider it a success if we can help launch some careers in popular anthropology production. We already have some really fantasticc expertise on board and some great tip-sharing!