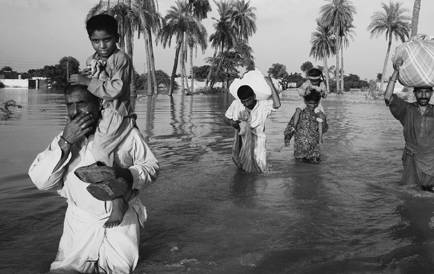 Photo: Giro555 / Samenwerkende Hulporganisaties, flickr
Anthropologists are following in media's and politicians footsteps: They care less about the floods i Pakistan than for the Tsunami in Southeast Asia, the Katrina floods in the USA and the earthquake in Haiti.
A quick search reveals nearly complete silence. While several anthropologists mention the desaster or call for help, they don't contribute with any analyses.
The only piece by an anthropologist that deals specifically with the floods consists of rather dubious culturalisations: Cultural wisdom in crisis by Kashmali Khan from Oxford University, published in the Pakistani Tribune.
But while I am writing these lines, suddenly an interview about the flood pops up at the great blog Anthropologyworks. Pakistan expert Maggie Ronkin (who's recently taught on Justice and Peace in Pakistan and Social Development in South Asia at Georgetown University) interviews Fayyaz Baqir, Director of the Akhter Hameed Khan Resource Center in Islamabad.
Fayyaz Baqir describes the floods as "the worst in the entire world during the past hundred years". But he is eager to add - and this is the interesting part in my view - that we "are underestimating the resilience, resourcefulness, and capacity of the people to cope with the disaster due to the presence of hundreds of formal and informal institutions and mechanisms that help people on a day-to-day basis."
This capacity and the will to help is echoed in several stories in Pakistani media.
"In the last 10 days", Zeresh John writes, in the Pakistani newspaper Dawn, "I've seen Pakistan come together in ways never seen before." "It is an overwhelming feeling", Zeresh John adds, "when people unite for a cause. When in an instant, strangers no longer remain strangers":
The Pakistani youth has risen and literally stepped out on the streets to help their countrymen affected by the flood. (…) Each day brings a relentless and constant chain of support. Where the monetary contributors stop, there is a group of people ready to take over by running to crowded bazaars everyday to buy food supplies, clean drinking water and medicines. From there yet another massive portion of the population is stepping in to pack those supplies and load them into trucks to deliver them to the affected areas.
(…)
As Pakistani authorities failed to provide the necessary leadership needed and with no proper coordination in the relief efforts, the civilian population of Pakistan has taken it upon themselves to do what they can in the face of this crisis; in the process, developing a conscientious society that we're all proud to belong to.
But these stories are not told by the media, a reader comments:
"I live overseas and this post was quite educational for me. How is it that none of our TV channels are highlighting this spirit ? All I've seen so far are stories about corruption, fake camps and immoral feudals diverting the flow of flood waters to their benefit. Our free media seems to be failing miserably by promoting only the demoralizing but sensational stories."
My favorite story is written by Shabnam Riaz in The News: The Real Heroes (see also cached version). She is also writing about "a spirit-lifting experience in this whole nightmare": Pakistan's youth, young men and poor laborers who help other people:
Small, scattered groups of young boys and men had formed where the rain was the harshest and was threatening to sweep away cars along with their occupants. (…) They worked in unison, all of them had a single purpose and that was to rescue other human beings. (…) They waved at us, hurriedly preparing to help the next hapless driver who was blindly careening into their path. We waved back with euphoric 'thank you' but they had already become busy in helping others.
 
I was touched beyond words. These young men were poor labourers who were most probably hungry as a day full of rain would not have given them a chance to earn their daily wage. I am sure that none of them were owners of a vehicle either. But their dedication to help the other members of society who definitely had more material possessions than they had, without any contempt at all, told me something. It told me that deep inside they were people of substance. Those individuals who had their moral compasses pointing in the right direction.
 
It also told me something else; that in fact, these were our heroes. Also, these people who slog from sun-up till sun-down for a meagre amount that could hardly put a decent meal on anyone's table, are our actual role models.
 
Here another story about how people help themselves (video by Al Jazeera)
Save Pakistan from the catastrophe is the title of an earlier article where anthropologist Fazal Amin Baig calls for action. Fazal Amin Baig wrote it earlier this year in the aftermath of a heavy landslide that took the lives of 19 people and displaced more than 1,500 people. "The year 2010 witnessed a natural disaster, which did not indicate a good omen to the people of Pakistan." Unfortunately, the anthropologist was right.
Check also Dawn's excellent special section about the flood and the updates at Global Voices and al-Jazeera and don't forget to help.
For an excellent example of how to contribute as social scientists, see my earlier post on anthropologists on Katrina.
(update: Pakistan: Netizens In Action Helping Flood Victims. (Global Voices 24.8.2010))
SEE ALSO:
Why we need more disaster anthropology
When applied anthropology becomes aid - A disaster anthropologist's thoughts
"Disasters do not just happen" - The Anthropology of Disaster (2)
After the Tsunami: Maybe we're not all just walking replicas of Homo Economicus