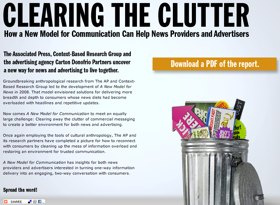 For the second time, Associated Press has engaged anthropologists in order to improve its services. The first research project, conducted by Context-Based Research Group, revealed that people - contrary to what AP believed - wanted more breadth and depth instead of short blasts of news. The new study shows that news consumers want a two-way conversation instead of one-way bombardment:
It is not just that people feel overloaded. As consumers, they long for a better way to communicate with information providers – news companies and advertisers alike. They want that communication to be two-way, transparent and honest. They seek a new relationship that is built on trust, not simply on the value of the content or advertising itself.
"You have to socialize the space before you can monetize it," Robbie Blinkoff, principal anthropologist for Context, concluded. "The solution is not just to create more engaging content, but to create better environments for engaging with content."

In the report, Blinkoff used Victor Turner's concept "Communitas" - something that APs Vice President Jim Kennedy Vice President called "an interesting bit of cultural theory":
He called Communitas a time of egalitarian information sharing which can be harnessed to rebuild trust between information providers and consumers. He likened Communitas to the social networking phenomenon online, where consumers feel comfortable engaging with information among their friends and peer groups. (…) With Communitas, there is no such thing as one-way communication. There are only two-way conversations that inspire loyalty and trust, and those are key ingredients with the power to cut through the clutter of the Internet.
Both studies are based on ethnographic research methods. The researchers tracked and analyzed the behavior of individuals in their work and home environments.
AP seems to be fascinated by anthropological methods. "One of the keys to understanding how to address the situation", AP writes, "has been the extraordinary insight enabled by the Context methodology":
Context does ethnographic research, meaning it studies small groups of people up close to get at the root of their behavior. That "Deep Structure," as Context calls it, opens up a view of how companies can respond to cultural changes that aren't so obvious on the surface.
>> download the research report "A New Model for Communication: Studying the Deep Structure of Advertising and News Consumption"
I found one more report on Context's website called Grounding the American Dream: An Ethnographic and Quantitative Study on the Future of Consumerism in a Changing Economy where they "portray a society and culture going through a "rite of passage" and moving into an era where we measure the quality of our lives in social terms before economic ones".
SEE ALSO:
How to get more young readers? Associated Press turns to anthropologists
"Prosumers": Consumer Anthropologist Uncovers Proof of New Species of Consumer
Exploring the honor culture of social media
Ethnographic study: Social network sites are "virtual campfires"
Digital Anthropology Report: Attitudes to technology = basis of future class divides
Popular IT-anthropologists: Observe families until they go to bed