Updated overview over anthropology blogs and their newest posts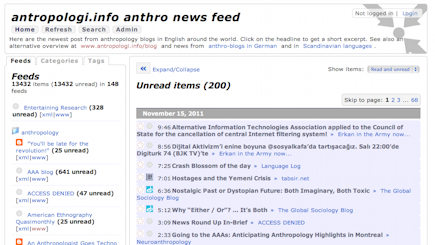 Nearly every hour an anthropologist somewhere on this planet publishes a blog post in English. The antropologi.info overviews over the newest blog posts in English are now updated with several new blogs. I've also removed some blogs that haven't been updated for a while and tried to fix some bugs.
It's not the edited overview with hand picked posts that Greg Downey at Neuroanthropology is looking for, though (and I hope will be realised somehow in the near future as well). I haven't included all anthropology blogs, though, so there was some editing.
I'm sure I've missed some blogs, so please let me know if there are anthropology blogs that should be part of the overviews: